Helping those with disabilities to get hired
Comments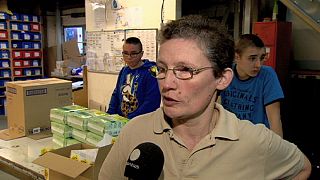 To mark the UN's International Day of Disabled Persons, euronews visited one Belgian company that helps people with disabilities find new work.
Two hundred of its 230 employees are living with a disability of some kind.
Belgium has more than one hundred firms like this one.
Chantal is one of those being trained. She hopes to be recruited full time in the future.
"I've been trained from the beginning and now I am training young people who start in a special class in the workplace," she said.
"They do two years of training and then they are hired if they want to be."
This firm draws one third of its revenues from public money.
The rest comes from its business activities, notably packaging items for supermarkets.
"The benefit for workers, is that we modify work stations and the work flow according to each person's disability," said Hughes Procureur.
The lowest gross hourly salary is 9.50 euros; the highest is 14.50 euros.
The pay is modest, but for many of the workers. It gives them a new lease of life.
Eddy is spending his first day at the carpenter's workshop. After a two week trial period, he'll get hired permanently.
"We feel useful once again because sometimes after becoming disabled, we think we'll never find anything again," he said. "But we're happy to find work again. It's a pleasure."