MEPs: what do they do to justify their salaries?
Comments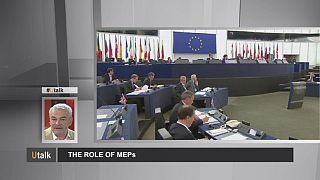 We've voted them in, we pay their wages, so we should know what they do all day. In this edition of Utalk the focus is the role of members of the European Parliament.
The quesion comes from Sophie in Brussels: "A new 5-year European parliament has recently been elected with 751 members. What is their role? What does their daily job involve?
Rudolf Herbert, Euronews' German Service correspondent in Brussels responds: "Elected at the end of May for a five year term the 751 members of the European Parliament first meet at their inaugra plenary session in early July.
"Each of the 28 member states has a certain number of seats: Cyprus for example has six, the highly populous Germany has 96.
"In the European Parliament MEPs however are not organised according to their own countries but in transnational fractions.
"So what does the work of the MEPs consist of? They are involved in the European legislation process and they control the institutions of the European Union, including the European Commission.
"About the legislation, it's not just about the most complicated matters, such as the banking union but also things that directly affect our daily lives; not least roaming charges, which just before the start of the summer holidays, will come down again .That's due to the European parliament.
"So what is the salary of an MEP? The basic monthly salary is just under 8,000 euros and is therefore not very high (for a parliamentary politician), but the MEPs also get a monthly expense allowance and a daily allowance for attending official meetings of the committees of the European Parliament."
If you would also like to ask a question on U-talk, click on the button below.