U-talk considers the French First Lady's role
Comments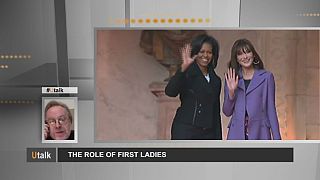 In U-talk euronews asks our viewers to submit questions on topics that interest them, and we look at the status of France's First Lady.
The question is from Cécile in the French city of Toulouse: "In recent weeks, the role of the First Lady in France has been much debated, so what is her real status? And more generally what is the official status of the person who shares the life of a President or the Prime Minister?"
The response is from Christian Delporte, a historian at the University of Versailles Saint-Quentin-en-Yvelines: "The First Lady has no special status in France as far as any institutional or constitutional status goes. She has no salary or official office at the Elysée.
"However for a long time now, France's First Lady has had a place in the protocol order as she is the hostess of the Elysee Palace and she follows the President when he travels abroad or attends ceremonies and international summits.
"Her role is a mix of French monarchical tradition, adapted to the situation of the Republic, and also to an imitation of the American model, the term "First Lady" itself is borrowed from the American vocabulary. I think that this is particularly apparent because in France, as in the United States, the president is the most powerful political figure in the state, which is not the case in most democracies.
"Since 1970, there has been an attempt to provide a function for the First Lady that would justify her presence at the Elysee. By putting the First Lady in the public eye, you would want her to humanise the image of the president, to enhance the emotional connection and identification of French people to her husband or her partner. In France, you could say that the role of First Lady isn't as influential as in the US.
"So, for French people it wouldn't be conceivable that the First Lady advises the president on a major political reform – as Hillary Clinton did concerning the reform of the health system when Bill Clinton was the US president.
"However, the role of the First Lady in France is much stronger than in any other European country, where leaders spouses remain very discreet and often continue their careers as if nothing has changed. For example Joachim Sauer, Angela Merkel's husband, is known for his discretion.
"In short, I would say that between the United States and Germany, France offers an intermediate model as First Lady."
If you would also like to ask a question on U-talk, click on the participate button below.