Lebanon struggles to cope with rising number of Syrian refugees
Comments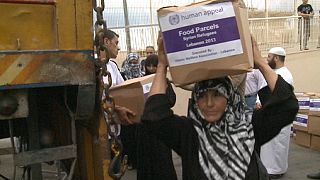 In the city of Saida, in the south of Lebanon, local non-governmental organisations (NGOs) have joined together to coordinate humanitarian aid for refugees fleeing from neighbouring Syria.
They have been giving out food parcels, as well as helping refugees access health care or find shelter.
It is estimated that Lebanon alone hosts more than half of the 2.5 million Syrian refugees who escaped the conflict since 2011.
Khassan Khankeer is spokesperson for Saida Federation of NGOs and says people are trying to help but it is tough: "The situation is getting more and more difficult for us because the numbers of refugees are increasing in huge numbers. In the city of Saida, Saidonian people try also to help refugees by giving them clothes, houses for housing, they try their best. But the problem is becoming bigger and bigger every day."
For Ali and his children, who have fled from Syria, these parcels are vital. The family is part of the thousands of Palestinian Syrian refugees who have come to Lebanon.
Their situation is extremely precarious. After handing out temporary residence permits, Lebanon closed its borders to palestinian refugees from Syria in late August. Ali arrived 7 months ago; his permit is no longer valid, and his presence now illegal.
He found refuge in the Palestinian refugee camp of Ain el Heloue in Saida, the biggest in Lebanon. Born in Lebanon, he left at age three when his family fled the Israeli military intervention in 1982.
He spent his life in the Yarmouk refugee camp in Syria, before being forced to flee again with his wife and children. Their identity is not recognised here.
"The problem is that I have to register my children in Lebanon, as Lebanese Palestinians. Every time I show my documents, they tell me they are not valid because they must be certified by the foreign ministry in Syria.
"I went back several times, I tried everything. And then I sent my wife to Syria to get some new birth certificates for my children, but nobody can access the administration services there. And now my wife has been stuck in Syria for a month, because they're no longer letting Palestinians through at the Lebanese border."
"I came to this camp, I went from one displacement to another, from one refugee camp to another refugee camp. What can I tell you. I go from misery to misery, it's escape after escape," he said.
Without a residence permit, Ali is not entitled to help from the UNRWA, the UN agency which provides help to Palestinian refugees.
Forced to look after his children, he lost his job. He sold all his belongings, in order to buy food and clothes for them, and lives off occasional charity.
The arrival of the Palestinian Syrians has stretched the population of Lebanon's Palestinian refugee camps to the limit.
The inhabitants are supportive, but tensions do arise. The divide between partisans and opponents of Bashar el Assad's regime is spreading in Lebanese society, and incidents are multiplying.
In the capital, Beirut, the massive presence of the Syrian refugees is on everyone's mind. Concern is rising as to the impact on the country's economy and its stability.
For Beirut resident, Shady Zoghy, the plight of Syrian refugees is getting worse: "It's really tragic, and we are witnessing more and more security problems. There is some sort of nationalistic racist feeling going on especially in the areas where Lebanese people are poor and they are not finding jobs, and they see the Syrians taking their jobs. This issue should be handled with more care, especially the numbers, the numbers are not acceptable."
Beirut resident, Adnane Haraké, believes the refugees need to be handled more strictly: "From an economic point of view, Syrians who come to Lebanon take Lebanese people's jobs. They work in every field, at any price, and the State doesn't have any control. They have to control this. They should put them in refugee camps where they aren't allowed to go out from, give them food, and that's it."
Another Beirut resident told euronews: "I see Syrian people are sleeping on the floor and it makes me very sad. It's enough, it's enough, it's enough! Poor people!They have to help them. Not in Lebanon, we cannot support so many people. But really they have to do something, make the peace in their country so they can go back there".
To return home, is also what Syrian refugees long for. They do find odd jobs, for low wages, as in construction or agriculture.
We visit an informal settlement near the village of Terpol, in the West of the Bekaa Valley, where many of the syrian refugees have settled.
Aside from food and basic goods, NGOs try to improve the sanitary conditions of the refugees, and to consolidate their fragile dwellings, or to provide educational support to children. But the funds involved are far from enough to cover their needs.
For most children, who came here two years ago with part of their families, what they yearn for is to return home.
"Our dream is to go back to our homeland! This country is not ours, we want to go back to our land and live in our homes. We want to go back to our schools to learn there. Syria is our pride, it's our dignity, it's all we have. Our dream is to tread our country's earth again. And may God make our dreams come true," one child said.
In the meantime, the UNHCR has reduced its assistance programme to Syrian refugees because of lack of funds. Those considered less vulnerable no longer receive food aid. They can however appeal.
UNHCR spokesperson, Lisa Abou Khaled said: "The ones that really need assistance are sending us appeals. And outreach workers are conducting field visits and visiting these people to make sure that the people who are really in need aren't excluded from assistance."
It is little comfort to most. The camp's representative, Amal, a Syrian refugee, said: "We can't take it anymore, we're fed up! People are exhausted. Our morale is shattered to pieces. so many youths have died in Syria!"
"What hope can there be? My brother is dead! What else? Will he come back. Will foreign countries bring him back to me? Enough, it's over. What's left for me to hope for? We can only wait and see what God will do. If the world doesn't move, what can I expect?", she continued.
"The youths have gone, our best youth, and they keep on dying! What can we hope for? After all that happened, will they move? They're sleeping! Let them sleep, and they shouldn't bother waking up. It's enough."