More fear than hope in north Kosovo?
Comments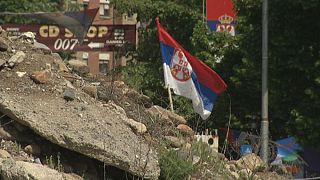 By granting greater autonomy to Serbian municipalities in northern Kosovo, the EU-brokered accord between Belgrade and Pristina sets a precedent in the country's history. Its aim is to end partition between Kosovo's Albanian majority and its minority Serbs. But the latter are unahappy with the deal, which still contains many grey areas and which they see as treason on the part of Belgrade. Local politicians are threatening to jeopardise its implementation.
In the town of Mitrovica, divided between the Serbian population to the north and the Albanians in the south, tensions still run high.
And concern is greater than hope within the Serbian community, which feels left out by the accord, the aim of which is to speed up EU accession talks for Serbia.
"There will be a gradual exodus of the Serbian population, which will effectively result in a form of ethnic cleansing," says the director of North Mitrovica's health centre.
His reflects a widely spread feeling among northern Kosovo's Serbian population, which this businessman is one of the few to counter. He believes the agreement could lead to political and therefore economic stability in this region badly affected by unemployment: "For entrepreneurs, the priority is the rule of law (…) to boost jobs and business. The Serbian community can only survive here if it is economically strong."