Will Hollande have the power to change the course of Europe?
Comments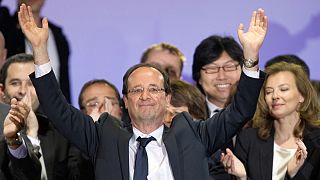 France's presidential run-off was a closely fought race in the end as both candidates made gestures to a far right that came in third in the first round.
President Sarkozy made borders, immigration and crime a major issue, while François Hollande made it clear the doors are not wide open. They called for more growth related policies to fight an unemployment rate hovering near 10 percent with nearly three million people. Where they diverged was on how Elysée palace should change France's taxation and spending policies.
Sarkozy called for fiscal rigor, while François Hollande urged a loosening of the fiscal strings to spur sluggish growth. The battle now turns to the June legislative elections, as the new president's policies can only be successful with a cooperative national assembly.
Wired in to this edition of the network are: Corien Wortmann-Kool Dutch MEP and Vice-Chair of the People's Party, in the parliament that includes Mr Sarkozy's UMP; Hannes Swoboda Austrian MEP and Chair of the Group of the Progressive Alliance of Socialists and Democrats in the parliament which includes Mr Hollande's Socialists; and Sir Graham Watson an MEP from Britain and President of the European Liberal Democrat and Reform Party.