Should the European Commission make a decision on assisted suicide?
Comments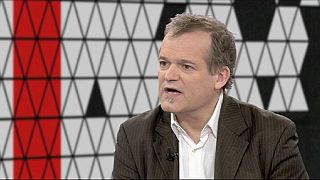 Should those suffering from incurable diseases have the right to assisted suicide? At the moment this issue varies from country to country, and some have yet to decide. Should you have the right to die with dignity?
Euronews' Alex Taylor speaks to Doctor Bernard Devalois, Head of the Palliative Care Unit at the Hospital of Pontoise in France, putting forward your questions on I-talk.
The first question comes from Alexandre from France: "As a Frenchman, I'm asking the question because there are a lot of discussions in France on whether we should allow assisted suicide, and the similarity between suicide and assisted suicide, and no law has been passed, either in France or Europe to harmonise the rules. To allow people to die with dignity.
"So as more and more people talk about this, when will a European law be passed that will help people to die with dignity?"
Alex Taylor: "A fundamental question. There's no agreement between different countries. What is the European position? Is there one?"
Dr Bernard Devalois: "There is no European position as it's a complicated issue. Dying with dignity is not at all the same as assisted suicide or lethal injection. These are different things. Palliative care is to ensure that people die with dignity. In France for example there is a law on that…"
Alex Taylor: "But why can't we have the same law in all of the countries?"
Dr Bernard Devalois: "So I think there is already a problem to use the correct terms. Knowing that assisted suicide is one thing, lethal injections practised by doctors is another and to die in dignity, palliative care, this is a third. However I do think it is important to have a European legislation."
Alex Taylor: "Do you see it coming?"
Dr Bernard Devalois: "I don't know. Of around 500 million people, about 30 million are for the legalisation of the lethal injection and around 470 million are more or less under laws that allow the cessation of treatment, stopping life support, but not the lethal injection."
Alex Taylor: "A second question for the doctor, comes from Germany."
"Hello I'm Nicholas , from Germany, I'm 22 years old and I'd like to know the difference between suicide and euthanasia."
Alex Taylor: "A basic definition, euthanasia is when it's someone else, but assisted suicide is when you cannot commit suicide?"
Dr Bernard Devalois: "Yes, so basically already, suicide is a fundamental freedom that each of us has. This is not a right. If we speak of a right to suicide that means you can perform suicide on someone else. This is generally called euthanasia, but in a country such as Belgium, the term "euthanasia" refers to what is allowed by law. Lethal injections which are not performed as part of the law are not called "euthanasia." But in France the term "euthanasia" refers to all lethal injections. So there really is already a problem to agree on the words."
Alex Taylor: Are there no guidelines? Because the European Union gives guidelines on this kind of thing, especially the Commission. So isn't it trying to create some uniformity on this issue?
Dr Bernard Devalois: "First the semantics need to be clarified, so that everyone agrees on the words, and they're recognised by everybody, that's the key point, to see people have the right to die with dignity at the end of their life. But to say that is not to say 'they must die at the hands of a doctor by a lethal injection' as is authorised in some countries such as Belgium, Luxembourg and the Netherlands."
Alex Taylor: "We received a question via webcam from Emmanuelle."
"Hello, my name is Emmanuelle and I live near Paris. I've seen a lot of debates on ending life – euthanasia – and I have heard many arguments especially from supporters of RDD, that the Leonetti law allows patients – or their families when they are unable to ask – to stop artificial nutrition. But these people then suffer greatly from hunger and thirst. Is this really the case, and how can we make sure they do not suffer from this? Thank you."
Alex Taylor: "RDD is the right to die with dignity. What are the authorised methods?"
Dr Bernard Devalois: "I think in any case, what is really important is to understand that people do not die of hunger and thirst because they are not hungry and they do not feel thirst. When we do not implement medically assisted nutrition, artificial nutrition, people do not go hungry…"
Alex Taylor: "Are there not? When someone asks for help to die, aren't there more humane methods?"
Dr Bernard Devalois: "Allowing people to die by stopping artificial nutrition is a very humane technique. We, and indeed supporters of legalised euthanasia play on emotion using words like 'starve', and 'dying of thirst,' but these terms are inaccurate. It's much more humane to die by stopping life support than to die by an injection of potassium chloride which blows up heart cells, i.e. the lethal injection."
Alex Taylor: "Now a question sent in to I-talk from Portugal."
"Why would patients facing ill health choose death when for most diseases there is now a treatment? To legalise euthanasia simply because the patient's illness is very difficult to deal with is an unfair and inappropriate solution for a physician today. Do you consider euthanasia as a solution for twenty-first century medicine?"
Dr Bernard Devalois: "No, I consider that if we take the term euthanasia to mean lethal injection by a doctor. I think today it's more a solution of the past than a solution for the future. I think the solution for the future is to take care of each patient properly and to allow them to die with dignity, with the help of palliative care. But that costs money, so there are political choices to make. While euthanasia is one technique, and lethal injection is another, finally, these show a lack of solidarity with the patients, at the end of their life."
Alex Taylor: "You use the word 'dignity.' How do you define that in this context?"
Dr Bernard Devalois: "This is one of the big problems. Dignity for me, is a natural right that cannot be taken away. It's part of what it is to be a human being. This is the meaning of dignity used in the Universal Declaration of Human Rights. It is part of human nature."
Alex Taylor: "And so it 'means no pain'."
Dr Bernard Devalois: "Of course, and that is why it is imperative to provide solutions where people don't feel pain. It's our job, it's my job every day, to take care of dying patients and ensure they do not hurt, that there is no psychological distress and that they're accompanied by their relatives. That is the solution for the future, not to say 'because I can not cure you I'll give you a lethal injection.'
Alex Taylor: "Another question for Doctor Devalois on euronews."
"I'm Carlos from Portugal. My question is, how can religion influence the use of euthanasia?"
Alex Taylor: "The point of view of religion in general?"
Dr Bernard Devalois: "There are indeed religions that – for reasons of their own, that I respect – have positions, the so-called pro-life positions, on a number of ethical issues that I share or don't share, it's not important. But from my work on the end of life, palliative care, it's not something that is fraught with religious issues…"
Alex Taylor: "Ethical issues?"
..
Doctor Bernard Devalois: "For ethical issues I take one example: In Italy, where the Vatican is very influential of course, and is strongly opposed. We were talking earlier about turning off life support, or rather stopping artificial nutrition. I explained how it seemed important to stop artificial nutrition. This is a position on which the Catholic Church does not agree. So we sometimes have problems with patients, but if the patient is religious we respect that, if he says 'I do not want to stop my artificial nutrition' we will agree. We must respect the beliefs of everyone and we must respect the fact that many of us do not have beliefs and each side is equally valid."
Alex Taylor: "So one last practical question on I-talk."
"Hello my name is Irene, I was born in Etterbeek in 1965. I have a cousin who died with dignity and it is very expensive. I wanted to know if social security or the European community will eventually get involved because it is so expensive!"
Dr Bernard Devalois: "As she is from Belgium then to my knowledge, when she uses the term 'death with dignity', again it means nothing. Does it mean that she died by lethal injection? To my knowledge in Belgium this has no significant cost. On the other hand in Switzerland assisted suicide can be very expensive. I am not aware that there is a particular price in Belgium for the lethal injection, I can not answer this question.
"I do know however that support and palliative care are expensive, not for the family but for society. But it seems to me that it's very important that we show solidarity with those who are dying and we put in resources, including human resources. We need nurses, assistant nurses and so on. And it is expensive, yes, probably more expensive than lethal injections but I think it's worth it."
Alex Taylor: "Doctor Devalois, thank you for responding to a difficult topic with concise answers, that's the rule of the game.
"Join us again soon for another I-talk from the European Parliament here in Brussels."