Why is 112 not accessible for deaf people?
Comments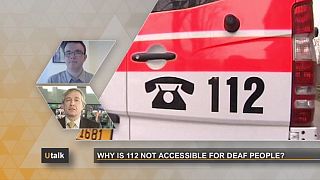 Lars Knudsen, with the Brussels-based organisation the European Union of the Deaf, poses the question:
The European Directive 2009/136/EC on universal service should have been put into practice in all the EU countries by May 25 this year. Why then are the 112 emergency services not accessible for deaf people?
Jonathan Todd, European Commission spokesman for the Digital Agenda, responds:
The first thing to say is that it is on the European Commission's initiative that all member states are now obliged to make the 112 emergency number accessible not only to deaf people but to all people with disabilities.
It's disappointing that so far only the EU member states Denmark, Estonia, Sweden, UK, Ireland and Malta have notified [us of] measures to implement the new rules. But we are taking legal action against the other 20 [EU member states], to persuade them to implement the rules as quickly as possible.
Now, it's one thing to have the rules on the statute book; it's another to have the rules working in practice.
To the best of our knowledge, the UK, the Netherlands, Denmark and Finland are working on systems to make 112 accessible through the SMS text service.
What the Commission has done is to write to all the member states, last June, asking them to give us full details of precisely how they are making the 112 number accessible to disabled people, and the member states are due to reply to us by 21 October.
But clearly, in addition to that, we would be very grateful for all information from non-governmental organisations and other interested parties that give us, the European Commission, a better idea of how these systems are working in practice, and the extent to which member states are complying with their obligations.
And let me be clear that where member states are not respecting their obligations we will pursue them, if necessary, before the Court of Justice, to make sure they do what they are supposed to do under EU law.