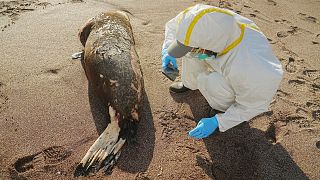 -
Copyright

SERNANP / AFP
Hundreds of sea lions have died of bird flu in Peru in recent weeks, authorities say, urging people to stay away from the beaches.
It is thought that migratory birds from the US were responsible for transmitting the disease.
55,000 dead birds including pelicans and penguins have been discovered across eight protected coastal areas, the Sernanp natural area protection agency said.
Wildlife rangers in the region found that the bird flu which killed them had also claimed the lives of 585 sea lions in seven different protected marine areas. Lab tests confirmed the presence of the virus in these animals, prompting authorities to announce a "biological vigilance protocol".
Peru's National Forest and Wildlife Service (SERFOR) has urged people and their pets to avoid contact with sea lions and seabirds on the beach.
In November, Peru declared a 180-day health alert after finding three cases of highly contagious bird flu in pelicans.
Then, in December, 37,000 birds on a chicken farm were culled after a previous outbreak affected wildlife. Killing the birds is a part of standard protocol to prevent the spread of avian influenza.
Is bird flu a risk to humans?
It is rare that the H5N1 bird flu virus jumps over to mammals and even rarer that humans catch it. But recently it has been found in foxes and otters in Britain, a cat in France and grizzly bears in Montana, US.
All of the mammals that caught the virus are thought to have eaten infected birds.
Since late 2021, Europe has been gripped by the worst-ever outbreak of the virus. North and South America have seen severe outbreaks too.
World Health Organisation director general Tedros Adhanom Ghebreyesus warned on Wednesday that these cases of H5N1 in mammals must be "closely monitored".
He said that the risk to humans was currently low but "we cannot assume that that will remain the case and we must prepare for any change in the status quo."
Ghebreyesus cautioned people against touching sick or dead animals and encouraged those who find them to report them to local authorities.
Watch the video above to learn more about Peru's bird flu outbreak.