Mass graves start to appear in Antakya as rescue efforts in Turkey enter their final hours
Comments
By Anelise Borges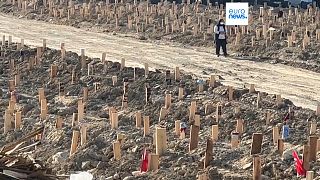 Antakya in southeastern Turkey has run out of room in its cemeteries to bury the people killed by last week's earthquake.
Residents of the city have urged its authorities to create new burial sites for their loved ones.
Euronews' international correspondent Anelise Borges reports from Antakya that mass graves are starting to appear across different parts of the city.
DNA samples are being taken from unidentified and unaccompanied bodies that arrive at the mass graves so that their families can later identify them
Antakya in southeastern Turkey was one of the worst hit areas by the earthquake on 6 February. And search and rescue efforts have entered their final hours, as more than a week has passed since the earthquake, and temperatures have reached -6 degrees Celsius.
According to the country's President Recep Tayyip Erdogan, more than 35,000 people have died in Turkey. Another 105,505 people were injured.
The number is expected to rise, making it the country's deadliest disaster in a century.
Around 3,700 more deaths were recorded in neighbouring Syria, taking the combined toll to over 39,000.
Watch Euronews' report in the video player above to learn more.