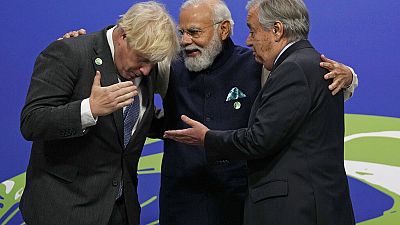 By Euronews with agencies
COP26 got underway on Monday with "doomsday" warnings from world leaders and environmentalists. But there were also renewed commitments to tackle climate change.
Here are five key takeaways from Day One of the COP26 :
1. World leaders resort to end-of-the-world rhetoric to highlight climate emergency
Opening the summit, UK Prime Minister Boris Johnson compared global warming to "a doomsday device'' strapped to humanity.
"We are digging our own graves,'' added UN Secretary-General Antonio Guterres.
Barbados Prime Minister Mia Mottley, speaking for vulnerable island nations, warned leaders not to "allow the path of greed and selfishness to sow the seeds of our common destruction."
2. Countries set out national commitments to tackle climate crisis
Scores of heads of state spoke about what their country is going to do about the threat of global warming.
India's PM Modi said that his country will achieve net-zero by 2070, two decades later than the summit's target. India is the world's fourth-biggest carbon emitter and before now had not announced a plan to reach net-zero.
Spanish Prime Minister Pedro Sánchez announced that his government would increase its climate funding by 50 per cent in the next few years.
Meanwhile, German Chancellor Angela Merkel called for the introduction of global carbon pricing.
3. Leaders from top polluting nations skip summit
Xi Jinping, president of top carbon polluting nation China, and Russian President Vladimir Putin were not in Glasgow.
Turkish President Recep Tayyip Erdogan pulled out of the conference at the last minute.
Several other major emerging economies are also skipping Glasgow, including those from Russia, Mexico, Brazil and South Africa. That leaves Modi the only leader present from the so-called BRICS nations, which account for more than 40% of global emissions.
Several small nations from the Pacific islands couldn't make it because of COVID-19 restrictions and logistics.
4. Climate activists put pressure on world leaders at COP26
Outside the negotiations, youth climate activist Greta Thunberg accused world leaders of "pretending to take our future seriously."
"Change is not going to come from inside there," Thunberg said, "We say no more blah-blah-blah."
Kenyan campaigner Elizabeth Wathuti urged world leaders to take action, describing the devastation wrought by climate change in her community.
"Over two million of my fellow Kenyans are facing climate-related starvation," she said.
5. Expectations remain low after vague G20 climate pledges
G-20 leaders in Rome only offered vague climate pledges, saying they would seek carbon neutrality "by or around mid-century.''
In their final communique, the Group of 20 leaders also agreed to end public financing for coal-fired power generation abroad, but set no target for phasing out coal domestically — a clear nod to top carbon polluters China and India.
According to the communique, the G-20 reaffirmed past commitments by rich countries to mobilise $100 billion (€86.50) annually to help poorer countries cope with climate change, and committed to scaling up financing for helping them adapt.
A key sticking point remained the deadline for nations to reach carbon neutrality or "net-zero" emissions, meaning a balance between greenhouse gases added to and removed from the atmosphere.
Follow the latest developments on our live blog here:
11.01.2021
21:57
That's all for us tonight. We will be back tomorrow with more COP26 updates. 
11.01.2021
21:12
Queen Elizabeth's message to COP26 
In a video message, Britain's Queen Elizabeth II said "the time for words has now moved to the time for action."
The monarch said she hoped that the conference will be "one of those rare occasions where everyone will have the chance to rise above the politics of the moment, and achieve true statesmanship."
"History has shown that when nations come together in common cause, there is always room for hope," she said in the video, which was recorded on Friday at Windsor Castle.
11.01.2021
20:29
Do you think leaders will be able to agree on more ambitious climate action?
11.01.2021
20:04
Thunberg accuses world leaders of 'betrayal'
Outside the negotiations, youth climate activist Greta Thunberg accused world leaders of "pretending to take our future seriously."
"Change is not going to come from inside there," Thunberg said, "We say no more blah-blah-blah."
11.01.2021
19:54
'With much reduced Southern presence at COP26, it will be a more inequitable and undemocratic process than ever.'
11.01.2021
19:49
EC chief says Europe to be first net-zero continent
European Commission President, Ursula von der Leyen reiterated Europe's ambition to become the first climate-neutral continent at the COP26. 
Speaking at the opening ceremony of the international climate negotiations, she said countries had to "speed up our race to net zero. We're running out of time."
She pushed for other rich countries to aid poorer nations as much as Europe does and put a price on carbon emissions because "nature cannot pay that price anymore."
With AP
11.01.2021
18:30
Modi announces India will reach net zero by 2070 - 20 years after COP26 target
India's Prime Minister Narendra Modi said that his country will achieve its net-zero target by 2070, two decades later than the summit's target. India is the world's fourth-biggest carbon emitter and before now had not announced a plan to reach net-zero.

But, Modi added, while India has 17 per cent of the world's population, it is responsible for only around 5 per cent of total emissions.

He also outlined five major promises by 2030 saying they represented "unprecedented commitment by India": 
 
50 per cent of energy will come from renewable sources
Increase non-fossil fuel energy capacity to 500GW
Reduce total projected carbon emissions by 1 billion tonnes
Reduce the carbon intensity of India's economy by 45 per cent
Achieving the previously mentioned target of net-zero by 2070


The Indian Prime Minister marked his country's success since 2015, stating: "Today the entire world acknowledges that India is the only big economy in the world that has delivered in letter and spirit to its Paris commitments."