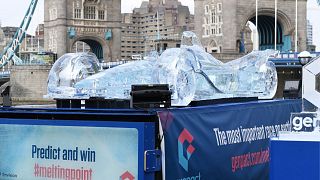 -
Copyright

Stuart C. Wilson/2021 Getty Images
Global warming has become tangible in the city of London this week, as a life-size ice racing car is constructed out of ice.
The ice sculpture is on display at Tower Bridge - but it's melting away very fast.
The "Melting Point" event was organised by Envision Virgin Racing's team partner, Genpact, and is certified as carbon neutral.
Thousands will be able to visit the three-ton ice replica of the racing car ahead of this weekend's 'Formula E' electric race.
As the UK Met Office issues the first-ever extreme heat warning in the UK this week, visitors are being invited to take part in a guessing game.
They will be competing with Genpact's data scientists to predict how quickly the ice car will melt, when exposed to London's severe weather conditions.
For every competition entry, Genpact will donate $1 to the Arctic Ice Project, a non-profit organisation that aims to slow the rate of climate change and restore ice in the Arctic.
Melting Point launches ahead of this weekend's FIA Formula E races in London and the 2021 United Nations Climate Change Conference, also known as COP26, which is scheduled to be held in the city of Glasgow from 31 October to 12 November 2021.
Click on the video above to see how quickly the ice car melts.