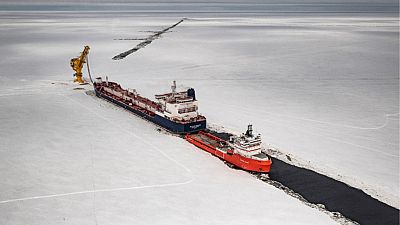 Last year, and for the first time, two photojournalists – the award-winning Kadir van Lohuizen and Yuri Kozyrev – were awarded the 9th edition of the prestigious Carmignac Photojournalism Award, dedicated to the Arctic. What followed was a five-month project spanning the Arctic from Alaska to Siberia documenting the alarming changes brought about by climate change. The images captured will be presented in an exhibition – **Arctic: New Frontie**r – that opens today at London's Saatchi Gallery. We spoke to van Lohuizen about the reasons he undertook this project and his experience working in this challenging region.
Congratulations on the award and the exhibition. Why did you choose to apply and what did the proposal include?
"Yuri and I have known each other for quite some time and are both co-founders of [Amsterdam-based journalism agency] NOOR. Both Yuri and I have worked in the Arctic before and we had previously discussed collaborating. We felt what is happening in the region will have an enormous impact. We thought it would make sense to work as two photographers instead of one. We had talked about it previously and realised it was an incredibly complicated and expensive region to work in, so when the theme was announced, we knew that we had to apply. Normally it's given to one photographer, but we asked if we could apply as two and were told that it was unusual but possible. We wrote quite an extensive proposal, involving a lot of research beforehand, and we got it."
Why did you think climate change was an important focus?
"As I mentioned we have worked before in the Arctic, and were both very aware of how climate change was impacting the region already. It's a known fact that temperatures are rising faster in the Arctic than anywhere else in the world and it's actually quite visible already. The problem with talking about climate change is that it's quite a challenge to show it. Often you're talking about what's going to happen in the future."
"We divided the project into chapters and I worked on Greenland, Svalbard, Canada and Alaska and Yuri in the Russian Arctic. The chapters looked at the opening up of the new sea routes, the militarization of the area, the impact of the increase in tourism, and the mining, oil and gas industries. I think the thing people don't realise is that the North Pole is sea ice, so doesn't have an effect on sea levels, but the melting of Greenland does have a massive effect. It's also our refrigerator, keeping temperatures down."
How did you decide on the project name, Arctic: New Frontier?
"I think previously not that much attention has been paid to the Arctic - it's this white desert that is difficult to access. We never really looked at it, and now it is becoming a real new frontier. If predictions are correct, that the North Pole will be melted in the summer in 11 years' time (2030), suddenly all the Arctic nations will be very, very close to each other. With the current political situation, it could become an issue. Resources are very important, and the borders in the region are getting militarized. I was with the Canadian army, who are training and conducting patrols in the Canadian Arctic. The Americans are active and the Russians are obviously very active. We're actually still working on this and I'm going with the Dutch Marines to the Norwegian Arctic in early March."
What are the major challenges facing the region?
"The question is who owns the Arctic. It should be quite an easy question to answer due to maritime laws, which define territorial and international water, but for some reason this doesn't seem to apply. With Antarctica it's easier, because it's a landmass covered with lots of ice, whereas the North Pole is not. It was only in 2007 when Russians planted a flag under the the North Pole and said, "this is where the Russian continental shelf ends – this is ours".
.
Did that cause a challenge for you working in the area?
"Well, we're journalists and so sometimes people look at you sceptically, not wanting you to be a witness or be present. Then there were the mining companies, which was another big challenge. It's known that there are enormous resources in the Arctic and there are numerous explorations going on. It's not really being supervised or controlled. Obviously it's a sensitive topic because people know that oil spills, or whatever contamination, could have a much larger impact than others places around the world as it remains quite remote and inaccessible."
Why did you want to explore the expansion of shipping routes?
"Shipping routes could be seen as a positive change. It saves an enormous amount of time if ships from Europe could take another route to Asia instead of the Suez Canal – it would save about 16 days. To some extent you could say it is more environmentally friendly, as the shipping industry is a very large polluter. However, at the same time it's destroying the polar region. If an accident happens, the region makes a clean-up or rescue operation very complicated."
How is tourism having an impact?
"The problem is that there are very large cruise ships operating in the area now, especially Spitsbergen in Svalbard as it fairly easily accessible from the mainland. I've been with different coastguards - the Americans, Norwegian and Canadians - and they're all very worried. The ships are much larger than the Titanic and all of the coastguards I have spoken to said they really don't know how to set up a rescue operation - If there is a ship carrying 4000 people, how do you get them all to safety?"
"Svalbard has a population of about 2,500 people. I was there when a German cruise ship docked, and the population of the whole of Svalbard doubled. It is a kind of a weird invasion of tourists. There are two ways to look at it, it brings money, but at the same time I interviewed some of the tourists about why they went on this cruise, and quite a few said it's because they wanted to see the last ice. There are polar bears and the ice, obviously it's beautiful, but it has some implications."
What situations or images do you think will stick with you the most?
"I haven't mentioned the native communities yet, but all of them are suffering. The permafrost is melting and the sea ice is disappearing. They survive on traditional hunting and need the sea ice, which now disappears very early and arrives very late in the year. It is also a natural barrier for storms. Coasts are eroding at an incredible speed. Many communities are being ruined by that."
"There are some images from point hope, a whaling community in Alaska. They have a quota they're allowed to hunt and are excluded from the international whaling community as they keep it for their own use, not commercial use. They hunt on the sea ice as it breaks up in the Spring. The whales use these channels to breath when they migrate North. But when I was there the sea ice was already completely gone, which makes it incredibly hard to hunt. These communities just can't hunt enough and really survive on this - it is essential for them. The costs in the Arctic are very high, everything has to be flown in, so for them it's just impossible."
"I think they get the feeling that they're being invaded. Everything that is happening is not due to them, and yet they're losing their livelihood and land to mining companies and others. These are very dramatic scenes."
Arctic: New Frontier – a Double Polar Expedition, by Kadir van Lohuizen and Yuri Kozyrev, at the Saatchi Gallery, from 15th March to 5th May 2019. More information
Writer: Danny McCance
Header: Cape Kamenny, Yamal Peninsula, Russia, May 2018. © Yuri Kozyrev - NOOR for Fondation Carmignac