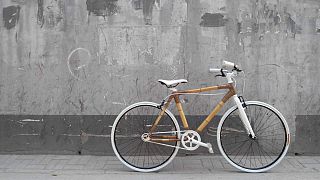 Copyright

Bamboo Bicycles Beijing/Facebook
Bicycles made of steel are heavy, aluminium can be too weak, carbon fibre too expensive and not eco-friendly.
For these reasons, manufacturers around the world are turning to natural materials, like bamboo, which is strong and supple.
The fact that the plant grows extremely quickly gives bike makers even more incentive to use it to make frames.
Here is our selection of the bikes to look out for:
1) In'Bô
A small, American company, Boo Bicycles has been building bicycles since 2009. The handcrafted bikes are made of Tam Vong bamboo, cultivated by the company in Vietnam.
According to their website, this is the strongest of over 2,000 varieties of bamboo growing worldwide and it is farmed without fertilizers or pesticides. It does not contribute to soil depletion or erosion — all it needs to grow are the sun, water, and air.
2) Booomers
This social enterprise, founded in 2014 by Kwabena Danso in Ghana, has a team of 50 people that crafts handmade products using local, sustainable materials.
Besides providing training and job opportunities to locals, the company supports students through scholarships and funds educational projects in rural communities, in partnership with UNESCO.
Booomers' work has been recognised by the Obama Foundation. The company's website lists the environmentally friendly features of using bamboo — the plant consumes CO2, emits oxygen and helps combat climate change.
3) Bamboocycles
Bamboocycles was founded in Mexico City in 2008. According to its website, the company's goal is to promote the use of natural, renewable, raw materials and supporting the growth of Mexico's industry by sourcing them locally. The company organises DIY workshops to teach people how to build their own bicycles at weekends.
4) my Boo
This company started as a social project called "Yonso Project" in Ghana, with the goal of providing jobs and supporting the education of children in the region.
Each bike sold finances scholarships as well helping to support the construction and day-to-day running of a school in Ghana.
5) Bamboo Bicycles Beijing
What started as a community project in 2013 in Beijing has expanded its social impact all around the world. It helped teach local children in Laos to build bicycles from scratch and also offers occasional workshops at MIT University in the US.
The company's first bamboo bikes were made in a tiny, ex-mahjong workshop in Beijing. Its work centres around offering knowledge through workshops and events in schools, communities, and organizations to teach people about design and sustainability.
6) Boogaali Bikes
Click on the video in the above player to learn about a Ugandan entrepreneur who makes handcrafted, bamboo bikes.