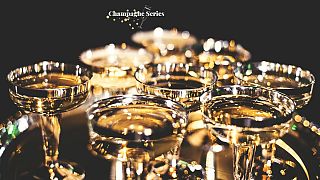 If you're anything like me, Christmas Day is a haze of frenzied present opening, military-grade organisation for the Christmas dinner, and the perfect excuse for an early glass of Champagne.
The celebrations might start early, and the food preparation even earlier, but no need to worry about what to drink with your near-perfect Christmas meal. Keep that Champers on ice, because this versatile wine is ready to up your dinner game - starter, main and dessert.
I was given the tough task of making my way through The Grill at The Dorchester's sublime traditional and alternative Christmas menus, assisted by Head Sommelier Christopher Delalonde MS, in order to find the perfect Champagne pairings for each course. Merry Christmas!
STARTERS
Traditional:
Celeriac and Jerusalem artichoke velouté with black truffle
Champagne: 2009 Brut
A souped-up winter warmer. A dish like this, especially with the truffle, immediately hits with warm, hearty notes, so you can go one of two ways. If you're looking to take the edge off the heavy tastes, a young vintage with balanced grapes (such as Taittinger's 2012 with 50 per cent Chardonnay and 50 per cent Pinot Noir) will have a creamier side to it, while still retaining an earthy influence. A slightly older vintage, say a 2009 (I tried one from Pol Roger), has less of the creaminess and softness, so blends with ingredients like celeriac and potato very well, and highlights truffle especially. If you're looking for a Champagne version of a velouté, a 2009 is your man.
Alternative:
Pan-seared Scottish scallop, roasted cauliflower, violet potato
Champagne: Blanc de Blancs
If you're looking for a different start to Christmas dinner proceedings, scallops is the way to go. This dish pairs perfectly with a Blanc de Blancs, as the crisp nature of the 100 per cent Chardonnay brings out the saltiness of seafood. The emphasis on the sea has an emotional attachment for me, having been brought up on the Scottish coast, but even without this, the tastes match perfectly through subtle contrasts that encourage the best out of one another.
As an added bonus, a Blanc de Blancs is probably what you'll be drinking pre-dinner anyway, as it's a strong apéritif choice. Never say I don't think of everything.
MAINS
Traditional:
Norfolk turkey breast with roasted potatoes, Brussels sprouts, cranberry, bread sauce and truffle mashed potato
Champagne: Blanc de Noirs, low dosage (preferably unfiltered)
For the main event, a celebratory, indulgent, rich turkey with all the trimmings, you need something that can hold its own alongside a wide range of tastes and textures.
A Blanc de Noirs is a surprisingly good match. This was recommended by Christopher, as the low dosage Champagne has the body to survive a Christmas dinner onslaught, and the black grapes serve to retain the Champagne's integrity amongst the different ingredients. The super low dosage (the Drappier I tried only has two grams of residual sugar) also means that there's no sweetness to take away from the cranberry kick, or the savoury lashings of gravy, bread sauce and mashed potato you'll probably over-face yourself with.
Alternative:
Herb-crusted fillet of cod with root vegetables
Champagne: Balanced, young vintage
We're staying fishy for the alternative menu, and I couldn't be happier. Apart from when I tried the young, creamy 2012 vintage alongside the herb-crusted cod. Whereas it was a runner-up for the velouté, it takes the crown here, as it does almost the opposite to a light dish such as this. The creaminess complements the cod perfectly, but the 50 per cent Pinot Noir still comes through, giving the fish a kick and matching with the iron in the root vegetables.
SWEET
Traditional:
Christmas pudding with vanilla custard
Champagne: higher dosage (sweet), or a Rosé
I have a confession: I'm not overly-enamoured with the traditional Christmas pudding. I find it a little tart and floral for my taste, which is why a sweeter Champagne is exactly the saviour we need. The Grill's pudding is streaked with orange, which is tempered by a higher dosage, immediately reducing the sharp citrus and leaving behind a sweeter, almost candied orange. The creaminess of the Champagne also does a beautiful little dance with the vanilla custard - a top pick.
Alternative:
Almond praline and vanilla soufflé
Champagne: Rosé
You'll be pleased to hear that the soufflé had risen to the very highest it could before taking off into the air - but are you surprised when it's the Dorchester? Something this light needs sweetness to round it off, especially with an almond praline. I veered towards a sweet Rosé with 80% Pinot Noir, as the fruitiness added another element to the soufflé, but this is really up to you. Champagne is for life, not just for Christmas. It is, however, very good this time of year.
Champagne information:
Vazart-Coquart Blanc de Blancs Extra Brut - 100% Chardonnay.
Drappier Blanc de Noirs Brut Nature - 100% Pinot Noir.
Pol Roger 2009 - 60% Pinot Noir, 40% Chardonnay.
Taittinger 2012 - 50% Chardonnay, 50% Pinot Noir.
Moutardier Cuvée Rosé - 80% Pinot Noir, 20% Chardonnay.
Möet & Chandon Ice Imperial - 40-50% Pinot Noir, 30-40% Pinot Meunier, 10-20% Chardonnay.
Writer: David Taylor