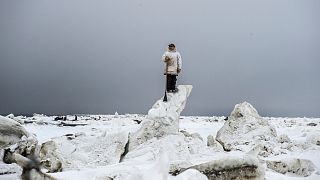 Copyright

© Kadir van Lohuizen—NOOR for Fondation Carmignac
For the very first time, two award-winning photojournalists covered the irreversible changes that have taken place in the Arctic as a result of climate change - their work lies at the heart of the ninth edition of the Carmignac Photojournalism Award.
Supported by Foundation Carmignac, the annual Award grants funding for investigative photo reportage on human rights violations, and geostrategic and environmental issues around the world.
After being selected by an international jury, Yuri Kozyrev and Kadir Van Lohuizen (NOOR) spent €100,000 over six months to conduct their investigative project with support from Foundation Carmignac.
Their polar project focused on the consequences of melting sea ice for the planet. Yuri Kozyrev travelled east while Kadir Van Lohuizen headed west. Among others, they accompanied Nomadic people and travelled to Murmansk, where the first floating nuclear power plant is under construction.
The photographic exhibition "Arctic: New Frontier" opens on November 7 in the biggest science museum in Europe, the Cité des sciences et de l'industrie in Paris.
Catch a glimpse of the journalists' experiences in the video above.
Video and images: "Arctic: New Frontier" by Yuri Kozyrev and Kadir van Lohuizen / NOOR for Foundation Carmignac