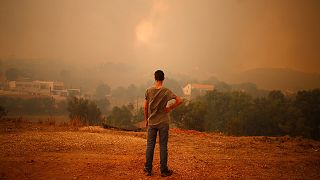 In Climate update we look back at global meteorological data gathered in the previous month, to better understand what it says about broader climate patterns.
An August of extremes
Last August was the fourth warmest month on record.
Sea ice cover was below average in both polar regions.
Northern Europe, Australia, and southern Africa were particularly dry.
Heavy floods drowned huge regions in China and India. A deadly typhoon caused havoc in Japan and Korea. Hawaii was struck by a tropical storm.
Southern Europe soaked under a much wetter than average August. In Italy, 11 hikers died after a flash flood in a creek.
Meanwhile, extreme heat and severe drought in Spring and Summer in Northern Europe plunged farmers into despair as harvests dwindled and cattle lacked fodder.
The continent suffered the warmest April to August period on record, with August being the third month this year with exceptionally high temperatures.
#AskSpace about climate change and the weather
Does the latest extreme weather tell us anything about climate change more generally? You have an opportunity to put this and other weather-related questions to leading scientists using the #AskSpace hashtag. Answers will be broadcast in an upcoming episode of our Space programme.