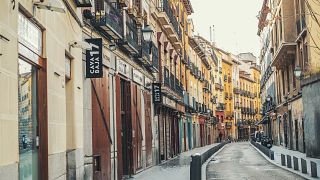 Known for its sunny weather, its prestigious football teams and its food scene, the Spanish capital has long been a privileged destination for tourists on a weekend break. However, it is also rapidly gaining popularity as a destination for business and professional meetings thanks to improvement of the Spanish economy in the last couple of years, Madrid's relative affordability, and the quality of its infrastructure. Whether it's finding an accommodation, a cozy restaurant to organise a business lunch with colleagues or some fine dining, or simply a trendy bar to unwind after a long day, there are many options to choose from. Here are some of our top choices:
Spend the night at Hotel Urban Madrid 5*
Secluded and elegant, Hotel Urban is located a few minutes away from iconic Plaza del Sol. Opened 14 years ago, the building feels very fresh and contemporary thanks to its timeless architectural designs by Spanish architects Carles Bassó and Cristian Cirici. Inside, the hotel looks more like a museum. Jordi Clos, founder of Derby hotels, of which Urban is part of, is an amateur of traditional art from China, India and Africa. Artefacts from Papua New Guinea adorn the hall whilst a dedicated exhibition room showcases ceremonial chairs, totemic figures and jewelry. Rooms are from 370 euros/per night.
Eat lunch at Xanveri by Cesar Anca
In a quiet street of fancy Salamanca neighbourhood, Xanvera by Cesar Anca does not get easily noticed. However, it's worth looking for it, if you wish to organize a business lunch in a confidential setting, away from the bustle of city centre. The restaurant possesses a discrete elegance with its tables covered in finely embroided white tablecloth and plush blue sofas. The menu fits both meat and fish eaters, the latter being the speciality here, and includes Spanish classics revisited. The plate of jamon iberico (Spanish cured ham) is cut fresh and particularly tasty and so is the red tuna tataki with orange, paired with a glass of Verdero Jose Pariente white wine. Xanveri Main dish from 22,75 euros.
Enjoy tapas at La Musa in La Latina
You can't spend time in Madrid without going out for tapas. Small dishes to share are a pleasure for the senses so you must head south to La Latina, a neighborhood that does them like no other. Filled with outdoor terraces and bars peppering every streets, La Latina is one of the best place to get a feel of Madrid's festive atmosphere. Head to La Musa for a nice glass of red from the Rioja and the house's selection of tapas including a creamy aubergine puree, a crunchy potato filled with meat, Japanese empanadillas and an innovative version of the Spanish croquetas. La Musa Latina From 12 euros.
Sip a cocktail at Museo Chicote
A couple of decades ago, you could have been sipping your cocktail just a few tables away from Ernest Hemingway, Frank Sinatra and Ava Gardner. Museo Chicote remains, to this date, one of the most popular bar in Madrid. Inaugurated in 1931 under the leadership of legendary barman Pedro Chicote, it has preserved all its glamour and remains one of the coolest places. Picture large comfy sofas and 1950s chrome metal chairs, and great parties with up-and-coming DJs. The best place to finish the day with an original cocktail (special mention for the daiquiri) and to get a glimpse of the city's nightlife.
Work meetings at La Piscine
And because you are here to work and get things done, we recommend going to Madrid's first ever 'coffice' (coffee-office), La Piscine. Particularly popular with freelancers, the place is quiet and luminous. Payment is per hour although it's also possible to get a pass for a full day, and visitors can enjoy a complimentary buffet of snacks, coffee and tea. The whole place is available for renting in case of larger groups looking for a quiet place to meet. A good option for those wishing to organise a breakfast meeting, seminar, conference talk or training, where catering can even be provided.
Writer: Léa Surugue