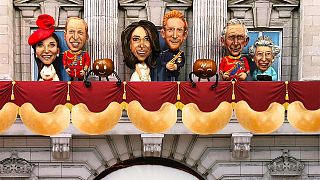 Copyright

Steve Casino, Painter Of Nuts/Facebook
The British royal family has gone nuts.
Ohio based artist Steve Casino has given a series of nuts a royal makeover creating tiny replicas of Britain's Royal family. He spent over 362 hours carving and painting the tiny royals.
The nutty royal figurines and scenes were created using a variety of nuts including almonds and coconuts.
The artist also regularly creates other characters from nuts and paints on items like Tic Tacs, once he painted a Van Gogh picture on a Tic Tac, for example.
The royal miniatures are part of a promotion for London-based milk company Plenish.
Writer: Doloresz Katanich with Reuters
Main image: Steve Casino, Painter Of Nuts/Facebook