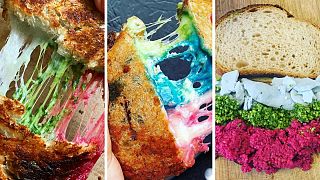 Melted cheese and toasted bread got a unique twist in one of London's luxury department stores. 
London's Selfridges has teamed up with Grill My Cheese to serve up the technicolour treat for Easter.
The so-called 'Rainbow Toastie' gets its colour from goat's cheese, beetroot, rocket and caramelised onion. Grill My Cheese says no artificial colouring is used.
Co-founder Nisha Patel says each toastie is made using organic sourdough bread and UK-produced farmhouse cheeses. "All our cheese are artisan, we really tried to make a truly special grilled cheese sandwich here. And it's Selfridges, so we've even added options of minced truffle from Truffle Hunter, or a chipotle ketchup from Rubies in the Rubble," she said.
The 'Rainbow Toastie' is proving popular, "rainbow is a strong food trend at the moment on Instagram," said Selfridges food buyer Louise Allen.
To celebrate the upcoming Easter holidays, Grill My Cheese is also serving up a unique twist on the hot they included cheddar and brie cheese, plus spiced salted caramel.
The Grill My Cheese pop-up is at Selfridges' food hall for four weeks.