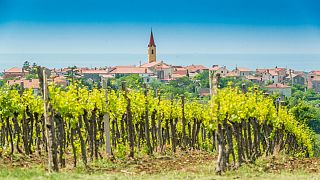 It's not only the landscapes of rolling hills and picturesque hilltop villages that enchant visitors to Istria. Croatia's heart-shaped peninsula nestled in the North Adriatic Sea also seduces through the taste buds. Its high-quality wine, excellent award-winning olive oil, highly prized truffles and more recently, fine craft beer, makes it a gastronomic destination in itself at any time of year.
Gastro-tourism is certainly growing here, especially in the fertile Mirna River valley in the peninsula's interior, where family-run culinary businesses are catering to the growing number of tourists – and their appetites. Many of these offer not only exceptionally good food and wine but also first-hand culinary experiences.
We take you on a road trip of a few of Istria's newest and most enticing food and drink experiences that are sure to appeal adventurous gastronomes.
Truffle hunting and tasting in Motovun
Perched at 277 metres, picturesque Motovun is the most photographed of interior Istria's many medieval towns. From its ramparts, views of the Mirna River valley stretch westwards where the river meets the Adriatic Sea. The deep woods at the town's base are where truffle hunters scavenge with the help of their dogs for the white truffle, the pungent, potato-like tuber that's both highly elusive and extremely pricey.
From Mirjana and Miro Kotiga's terrace there are unobstructed views of the fortified town that visitors like to capture on their phone cameras before tucking into their shop, Miro Tartufi. This is a treasure trove of gourmet truffle-flavoured products: from spreads, cheese, oil and honey to staples like pasta, rice, butter and salt. More recently, the couple have opened a cosy outdoor kitchen where they welcome small groups of food lovers looking to learn more about this gourmet delicacy.
Their three-hour truffle experience starts with a welcome drink and debriefing from Mirjana on the different types of truffles found in the surrounding area. "The white truffle is so expensive because it only makes an appearance in the autumn and early winter and needs particular conditions to thrive," explains Mirjana. "However, the black truffle is available all year round – and fetches a much lower price tag!"
Following Mirjana's introduction, Miro takes guests to the nearby woods along with their specially-trained dogs Bela and Nera so that the hounds can show off their truffle-hunting skills. They can sniff out truffles growing up to 25 cm underground, which Miro then digs up with a small spade.
Once back from the hunt with freshly unearthed truffles, Mirjana dishes up a sampling of local dishes seasoned with the pungent tuber: scrambled eggs, homemade cheese, sausage – and even chocolate cake topped with shavings of black truffle. An odd but winning combination.
A retreat offering cooking classes and communal kitchen in the countryside
Further west along the Mirna and tucked between a meadow and stretch of forest is Bolara 60, both the name and address of a lovingly restored 250-year-old stone farmhouse. Surrounded by fruit trees, vineyards and olive groves, and set to the lulling soundtrack of a nearby creek in the winter and birdsong in the summer, this bed and breakfast is a quiet rural getaway. Just a short uphill hike away is the charming hilltop town of Grožnjan and its many artists' studios and galleries.
The large communal dining room with its open kitchen and traditional fireplace, and outdoor cooking and workshop areas lend themselves to the sharing of food experiences, something Anna Colquhoun has had in mind since she and her husband Matt opened Bolara 60 last year.
"We wanted to create an informal and homely atmosphere, where guests come together for breakfasts and dinners. This isn't your typical holiday villa with manicured lawns, pool and air-conditioning! Bolara 60 will suit those who enjoy being immersed in the countryside and meeting others over good food," said Anna, a 'culinary' anthropologist and food writer, academic, cook and cookery teacher.
Keen cooks who like to get hands-on can book a cooking class with Anna, or join workshops to learn pasta-making, preserving techniques, or traditional methods of cooking on an outdoor grill, wood-fired oven or fireplace. Those who prefer to be outside the kitchen can try foraging for asparagus, juniper berries and rosehips when these are in season, or joining the local grape or olive harvests in the autumn.
Along the Parenzana trail in Istria, the world's best olive oil region
Stretching from Grožnjan eastwards towards Kostanjica is the most scenic section of the Parenzana Trail: a former railway that has been transformed into a popular bicycle and hiking path. The rocky trail passes through olive groves and viewpoints from where there are panoramic views of the landscape of rolling hills.
Just off the trail before Kostanjica is B10 Istrian Fusion's olive oil tasting room with a terrace opening onto one of the most breathtakingly scenic views in Istria, stretching across the entire Mirna valley all the way to the Adriatic. With this beautiful tableau before them, visitors can taste high-quality extra virgin olive oils and table olives produced by Boris and Sanja Galić.
"Extra virgin olive oil has health properties,"explains Boris. "That's why we called our company B10 because it sounds like a vitamin, which olive oil is in a way because it's very high in antioxidants." Their First Night olive oil, available as monovarietals and blends, has won several awards and been featured in the Flos Olei guide – the 'Michelin' for olive oil – which named Istria the world's best olive oil region in 2016, 2017 and 2018.
The olive oil produced here is delightfully fruity with grassy notes and a peppery bitterness that can tickle the throat – the sign of a high quality oil rich in healthy antioxidants.
Luxury wellness experience in Istria's wine-making region
Along with truffles and olive oil, another must-taste for epicureans is Istria's excellent wine. In this wine-making region, the indigenous malvazija white wine reigns supreme while the red teran is another fast favourite. Other popular varietals like muscat, pinot, merlot and cabernet sauvignon are also produced here.
Westward along the Mirna's course towards the sea looms the town of Nova Vas on a hilltop. This is the home of the Cattunar winery, run by a local wine-making family known for their quality vintages and sparkling wines. From the winery's location on the edge of the town, there are 360-degree vistas over rolling vineyards, the Učka mountain range, and a wide blue swathe of the sea, just 6 km away.
This is also the site of the new Cattunar Wine Hotel where spaces have been cleverly designed to take advantage of the sweeping views, whether it's from the L-shaped heated infinity pool, the wide wrap-around balconies, or the floor-to-ceiling windows of the guest rooms. All rooms are fitted with cosy fireplaces and wine-filled minibars while a few include extra perks like an in-room tub set before a panoramic window or a private terrace with a jacuzzi. "We've created a relaxing year-round escape for wine lovers or visitors who are keen to explore the region's many cycling and walking trails," said Vesna Cattunar about the clientele they aim to attract.
Of course a professional sommelier is on hand to lead tastings and tours of the 600-square-metre wine cellar occupying the ground floor. Meanwhile for those who want to linger, the spacious wellness area includes everything for a relaxing stay: fitness room, jacuzzi, Turkish and infrared saunas, and a massage bed.
Discovering craft beer infused with truffles and beer spa
Beer drinkers will be happy to know that they also have opportunities to be pampered. The craft beer trend arrived in Istria in 2013 when the San Servolo brewery introduced its excellent line of ales and lagers. This year, its creators have achieved another first with the opening of Croatia's first beer resort and spa on the site of the brewery just outside Buje.
In addition to three double rooms and two suites in a separate building, the San Servolo Resort and Beer Spa has 11 upscale contemporary-style rooms and three suites, an indoor pool enclosed with glass doors that open to the outdoors in summer, and sauna and fitness areas. But the most intriguing addition is the 'beer spa'. This private space is made up of two deep tubs filled with natural spring water sourced from the Mirna valley and beer hops. While guests enjoy a relaxing soak they can also help themselves to a craft brew from one of the in-spa taps.
"Beer spas are popular in Austria, Hungary and the Czech Republic," revealed Luka Perhat, the resort's general manager, "but the concept is still new in Croatia." San Servolo's natural and unpasteurized craft ales and lagers can be sampled in the beer-house and restaurant, and group tours are on offer of the on-site brewery. The more adventurous can sample the newest brew infused with the flavour of a typical local speciality: yes, truffles. Another odd but winning combination!
Istria can indeed surprise with its many and sometimes unexpected gastronomical offerings. Home-grown varietals, award-winning olive oils and truffle-infused craft beer are only some of the surprising ingredients that make for a culinary adventure to remember.
Writer: Isabel Putinja
Follow Isabel@IsabelsWindow