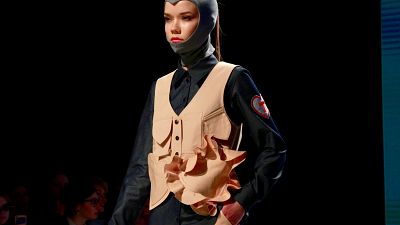 Brigita Stroda is a proud Latvian. Raised in Australia from Latvian parents and based in London for most of her adult life, she only moved to Riga when the time came to achieve her lifelong dream: to make bespoke Latvian traditional crowns.
"You won't be able to do a real Latvian crown in an hour in a half", she warns us as we start poking in the heap of craft supplies laying on the dinner table of her spacious apartment turned into a workshop studio for the occasion. Indeed, one crown takes several hours to make and require many skills from sewing to working with wires in addition to a creative mind.
"During midsummer, women and children walk into the meadows and pick flowers to make their own wreath. It's a ritual", she explains. Today, her Lastroda crowns composed of crystal beads, ribbons and precious fabrics are worn by local influencers elite and models in fashion magazines. It's becoming quite "trendy"she says. Below is my personal creation and if you swipe to the right you will see a bespoke one by Stroda;
Alongside other dress codes such as the Lievarde sash belt - an extremely complicated woven geometric pattern used as a storytelling device, the Namejs ring which is worn by Latvian in foreign countries as a way to recognize themselves among the crowd even if they don't speak the language, and the hand-knitted wool mittens which used to be the ultimate gift, there is a strong connection between Latvian and fashion as a mean of self expression. As we leave the workshop to enter the Riga Fashion Week space, we discover the new generation of Latvian designers leading this conversation today:
New Latvian designers on the catwalk of Riga Fashion Week
Talented by designer Indra Miklāva is a clothing brand for men and women, born in 2012, of which all the pieces are handmade in a local studio in Riga. "The inspiration behind the collection is love letters from the battlefront that symbolizes the yearning and the expectations, the power and the vulnerability at the same time" she says. It was reflected in the heart shape motif repeated throughout the collection and the military inspired silhouettes.
Narciss by Alice Trautmane defines her brand as "smart luxury" offering timeless pieces at a reasonable price point. She launched her label in 2011 after a radical career change. "The inspiration behind the Fall Winter 2018/19 collection is the picturesque place by the ocean, just a three hours drive from Manhattan" she says. We didn't spot the marine reference but those fluffy winter coats and smart little black dresses suits a night out in the Big Apple.
One Wolf is a high street fashion unisex, ready-to-wear label founded in 2012 by Latvian fashion designer Agnese Narņicka. The A/W 18-19 collection is based solely on denim cut in oversize shapes and allovers. The brand uses high quality textiles manufactured in Italy, Denmark, and Belgium and the clothes are made in small factories in Latvia.
Public Makes Image is a urban lifestyle brand founded in 2016. The new collection is called Dark Survivor and comes with handmade natural leather shoes and original accessories. The brand defines itself as "street style" based on inspiration taken out of local European fashion spotted in Amsterdam and other cities.