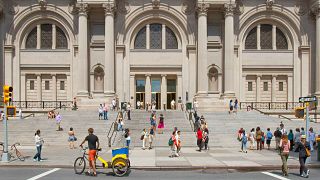 -
Copyright

The Metropolitan Museum of Art
After some couple of years of "semantical nudging" between "suggested" and "recommended" admission fees, New York's Metropolitan Museum of Art decided to start charging a mandatory $25 (€ 20.75) fee, starting March 1. The admission charge will apply to adult visitors who live outside New York state.
So how does it compare with other attractions around the world?
It is more than enough for a two-day entrance ticket to the** State Hermitage Museum** in Russia, including the Main Museum Complex, and the Winter Palace of Peter the Great among others. ($ 23.95)
It would cover the access to the Louvre Museum in Paris (tickets start from € 17), or you can ascend the Eiffel Tower for € 19 upwards.
Culture in Great Britain can be still accessible for free: the British Museum in London is free as well as the Tate Modern art gallery. 
Access to Rome's **Colosseum **starts at €12,00 while a basic ticket for Barcelona's Sagrada Família comes in at € 15.
The Louvre in Abu Dhabi opens its gates for an adult at a standard price of 63 AED (€ 14.22)
However, the admission fee of the museum in New York is not enough to cover for a visit in the Sydney Opera House, where standard tickets start from $37 AUD per person ($ 29.09 USD). The Statue of Liberty in NYC cost more, too at $25.50.
Well, the options are endless, it is up to you now.