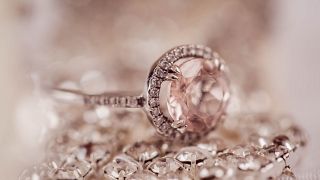 -
A large oval-shaped diamond known as the 'Picasso' of the pink diamond world has been sold in Hong Kong for €27 million.
The rare pink diamond broke the Asian auction record for the most expensive pink diamond ever sold.
But it fell short of breaking the world record for the most expensive pink diamond per carat.
The gemstone was sold by an international collector at Christie's autumn sale.
Christie's International Head of jewellery Rahul Kadakia said: "The colour of the stone was at the very top end of the pink diamonds, for pink. The size was very important, almost 15 carats, so you have an important size, a top colour, absolutely clean stone and beautifully cut. So all of those elements together factored into the perfect masterpiece helped us achieve this price."
The former owner of the diamond took years to plan a risky re-cut to allow more light through the gemstone to improve its colour.