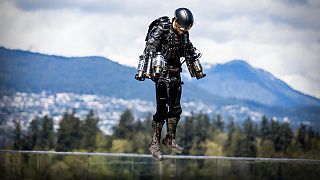 This is the moment a British inventor set the first world speed record for "flying a body-controlled jet engine power suit".
Richard Browning set the record over Lagoona Park in Reading on Thursday, November 9.
He reached a speed of 32.02 mph (51.53 km/h) on his third and final timed attempt before dropping into the lake, according to the Guinness World Records.
An adjudicator was on hand to verify the achievement and make sure that the speed was measured accurately over a minimum distance of 100 metres.
The Iron Man suit is made up of six kerosene-fuelled micro gas turbines, which each have 22 kg of thrust.