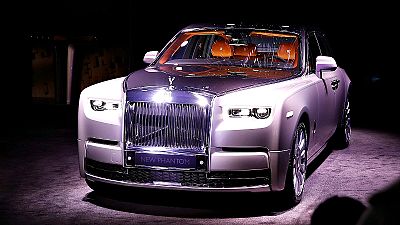 The new Rolls-Royce, one of the most recognizable brands and the oldest motoring nameplate in the world, – launched in London.
Phantom number VIII is considered as more evolutionary than revolutionary and follows the company co-founder Sir Henry Royce motto: "Take the best that exists and make it better."
Key features
- two-tone paint job – gun-metal gray and premium silver
– all aluminum space frame
– big central infotainment screen and digital dash
– 6.75-litre turbocharged engine – still petrol – no hybrid technology

Max speed
Top speed electronically limited to 155 mph – 250 km/h
Cost
The price range, not announced, is rumoured to be around half a million mark with "cheapest" version close to 400 thousand euros.
Customisation
For the first time, customers can commission an art work displayed inside the car at the special gallery behind the glass dashboard.
Design
Tha carmaker says that every car is unique, tailored to customers needs and specifications to reflect their lifestyle and taste.
The main inspiration behind the new car?
Rolls-Royce Motor Car's Chief Executive Torsten Müller-Ötvös says it is simply "the greatness – in all and every detail". Bespoke Design Manager Alex Innes points to its futuristic ambiance with "unique sense of power and presence".
"The Great Phantoms"
The New Phantom VIII crowns "The Great Eight Phantoms" exhibition at Bonham, largest classic cars auction house. Models of seven generations are on loan from different museums and collections.
Photo gallery
When it all started
The first Rolls-Royce car was unveiled at the Paris Salon at the end of 1904. Earlier that year Henry Royce, who had a mechanical business, built his first car.
He met car dealer Charles Rolls and together they decided – Royce would design cars, Rolls would sell them. Initially, it was just 4 cars, nowadays Rolls-Royce sells over 4000 a year.