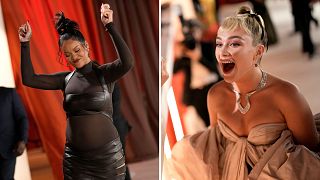 Lights, camera, fashion! 
The Oscars 2023 have officially ended, and we at Euronews Culture are here to give you the rundown of our favourite red carpet looks. 
From stunning gowns to dapper tuxedos, our list has it all. So sit back, relax, and get ready to be wowed by the glamour and style of Hollywood's biggest night.
1. Michael B. Jordan
I'm convinced that Michael B. Jordan could've shown up to the Oscars in a bin bag and still looked like one of the most handsome men alive. 
The Creed III actor rocked a custom Louis Vuitton black ensemble suit for Sunday's celebration. 
2. Lady Gaga
Lady Gaga slayed both the stage and the 'champagne' coloured carpet at the 2023 Oscars! 
As if being a last-minute performer wasn't impressive enough, Gaga also delivered a major fashion moment in a stunning Donatella Versace gown straight off the runway.
The "Born This Way" singer opted for a black number that featured a sheer, panelled bodice up top and a skirt with a dropped waistline - a look that only Gaga could pull off with such effortless grace. 
But she didn't just bring the fashion - she also brought some kindness to the proceedings. When a photographer took a tumble, Gaga rushed to help him up, proving once again that she's not only a fashion icon, but also a true class act.
3. Florence Pugh
Don't worry darlings, we would not forget Ms. Florence Pugh on this list. 
Accompanied by platform shoes, a striking silver necklace, and a two-tone hair design, the 27-year-old actress opted for a statement gown with ruffles, paired with black shorts.
4. Paul Mescal
Paul Mescal was a chic hit as he strutted his stuff at the 95th Annual Academy Awards in Hollywood.
The Irish actor, who was nominated for Best Actor, looked dashing in a white tuxedo jacket and a red rose on his lapel. 
His wide-leg black trousers were the perfect complement to his sharp and stylish outfit. Completing the look with a crisp white shirt, a big bow tie, and some patent loafers, Paul was the epitome of elegance and sophistication. 
5. Rihanna
Rihanna stunned the Oscars in a jaw-dropping Alaïa outfit featuring a dark brown leather bra and maxi skirt combo, complete with a matching sheer mesh turtleneck top. 
The skirt had daring thigh cutouts and a show-stopping train that had heads turning. To top it off, she rocked some Moussaieff High Jewellery and strappy heels. 
6. Angela Bassett
Angela Bassett has once again done 'the thing'! 
The 64-year-old actress, who was nominated for Best Supporting Actress category for Black Panther: Wakanda Forever, wore a stunning violet Moschino gown. 
This look was truly age-defying and has us wondering what magical elixir she's been sipping on. All hail Queen Angela!
7. Cate Blanchett
The brilliant Cate Blanchett arrived at the Oscars wearing a turquoise and black Eighties-inspired custom-made Louis Vuitton ensemble. 
The outfit featured a draped top with shoulder pads and a fishtail skirt made from satin material.
We think she looked absolutely Tár-iffic! 
8. Stephanie Hsu
Although Stephanie Hsu may have missed out on a Best Supporting Actress Oscar to Jamie Lee Curtis, she definitely didn't miss a beat in the fashion department. 
Her outfit was an absolute showstopper and left us all in awe!
The 'Everything Everywhere All at Once' star donned a gorgeous strapless pink gown from Valentino's Spring 2023 couture collection, that Barbie herself would be proud of. 
She accessorised with silver drop earrings and a matching bracelet. 
9. Halle Berry
Berry wowed in white, wearing a Tamara Ralph halter gown that boasted a high-neck collar and a peekaboo cutout. 
The asymmetrical wrapped waistline and hip-high slit in the trailing skirt added just the right amount of drama to the look. 
The dress was adorned with gorgeous rose gold rosettes that shimmered and sparkled as Halle walked. She completed her look with gold platform pumps and Pomellato jewellery.
10. Malala Yousafzai
Malala Yousafzai, the young activist and Nobel Peace Prize laureate, made a glittering appearance at the Oscars ceremony. 
She arrived wearing a shimmering silver Ralph Lauren gown that featured a ruched waistline. 
Malala was not just there to make a fashion statement; she was at the event as the executive producer of "Stranger at the Gate," a powerful documentary short that was nominated for an award.
11. Cara Delevingne
Despite the Oscars red carpet being champagne-coloured this year, Cara Delevingne brought the red back in a stunning Elie Saab gown. 
She paired the scarlet number with towering red satin platform sandals from Stuart Weitzman and accessorised with a dazzling diamond choker and a matching bangle worn around her wrist.
12. Brendan Fraser
Cool, calm and classic - Brendan Fraser looked dashing in a black tuxedo with a matching black bow tie and black leather shoes at the 95th Academy Awards in Los Angeles. 
The actor, who won the award for Best Actor in a Leading Role for his performance in the drama, 'The Whale', accessorised his look with a bar pin on his chest and dark-rimmed glasses. 
13. Allison Williams
M3GAN star Allison Williams appeared in a full-length nude sheath dress covered with pink and silver crystals by Giambattista Valli. The front of the dress was fully covered, but the back featured a daring cutout, finished with a pink bow and trimmed with silver.
We at Euronews Culture approve!
14. Michelle Yeoh
Michelle Yeoh, who became the first Asian person to collect an Oscar for lead actress, dazzled in a heavenly floor-length white gown by Dior Haute Couture. 
The ensemble was finished with a high mesh neckline, completing the graceful appearance.
15. Sandra Oh
Representing her Disney-Pixar film 'Turning Red', the 51-year-old actress made a statement in a yellow/orange Giambattista Valli gown, complete with a large, jewel-encrusted choker necklace.
The dramatic batwing sleeves added a touch of old Hollywood glamour to the outfit, completing the chic and sophisticated look.