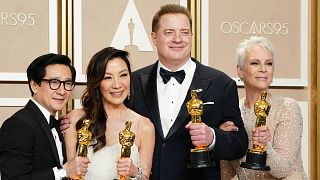 It was a historic Oscars ceremony last night as Everything Everywhere All At Once swept the awards, taking home seven trophies, including ones for Best Picture, Best Director and three out of four acting categories.
You can read our full analysis of the ceremony here. For those of you catching up on the awards buzz as the season comes to a close, we've compiled our best memes and streams of the ceremony.
Here are _Euronews Culture_'s favourite memes of the ceremony and where you can stream all the winning movies.
The Memes
Nothing topped last year's infamous slap-cident - which marked Will Smith's banning from the ceremony for a decade - for headline-grabbing fodder this morning. Still, the Oscars did provide a fair few hilarious and iconic moments to savour over the next few days.
This charming man, Hugh Grant
At the top of the list is the inimitable Hugh Grant. The British actor who made his name playing inumerable foppish romcom foils in films like Notting Hill, About a Boy and Maurice has had a fascinating second wind in recent years, with menacing roles like in A Very English Scandal and a charming comedic turn in Paddington 2.
But at the Oscars last night, it was clear this second wind hasn't given Grant any inflated sense that he must stand on ceremony. In a hilarious red carpet interview, Grant compares the show to 19th satirical novel Vanity Fair, only for his interviewer, Ashley Graham, to think he's talking of the Vanity Fair afterparty.
When Graham asks Grant what he's wearing, he responds bluntly, "just my suit."
Speeches and scrotums
That wasn't it for Grant though as he later presented an award with Four Weddings and a Funeral co-star Andy MacDowell, praising her use of moisturiser and claiming he looks like "basically a scrotum".
Year of the donkey
Chinese calendars may say that we're in the year of the rabbit, but any cinephile this year knows it's actually the year of the donkey.
Donkeys were crucial Ass-ets in some of the most critically praised films of the year, from Jerzy Skolimowski's EO, a stunning drama following the life of a donkey in a Polish circus, to Martin McDonagh's The Banshees of Inisherin, which starred Jenny the donkey as pet and confidante of Colin Farrell's Pádraic.
EO was nominated for Best International Feature Film and Jenny was basically the only actor who wasn't nominated for a gong out of the Banshees cast, so it was only right that the ceremony recognised the phenomenal efforts of the ass casts. Oscars host Jimmy Kimmel brought the one and only Jenny on stage to a rapturous applause.
Don't pick me girls
We've all seen shows where the performer decides to start picking on members of the audience. Whether you're the sort to leap up at the opportunity, or shy away crawling into the depths of your chair's crevice, your reaction is quite a telling insight into the kind of person you are.
Last night's ceremony showed exactly where The Amazing Spider-Man and Tick, Tick… Boom! star Andrew Garfield is on that spectrum.
In one of host Kimmel's many vaguely funny audience asides, he started listing the action hero actors in the room. Kimmel name-checked Michelle Yeoh and Pedro Pascal, who both gamely gave action hero poses.
But when it came to Spider-Man actor Garfield, his uncomfortable grin said a thousand words.
Indie and Short Round's reunion
Ke Huy Quan has won pretty much every gong going this award season for his supporting role as Waymond Wang in Everything Everywhere All At Once. He's made a name for himself with his touchingly earnest acceptance speeches, and his victory speech at the Oscars was right up there.
The Vietnamese-American actor stepped away from acting for fear of being stereotyped, only to return nearly two decades later for this star turn. He referred to his experience as a child refugee, before making his thanks.
It was when EEAAO won for Best Picture that Quan guaranteed there'd be no dry eyes in the house. Quan made his name as Short Round in 1984's Indiana Jones and the Temple of Doom, starring Harrison Ford. It was Ford presenting the evening's biggest award and gave the pair a chance for an all-important on-stage reunion.
Where to stream 'em
Haven't seen some of the victorious films yet? Here's everywhere they're available right now.
Everything Everywhere All at Once - Best Picture, Best Director, Best Lead Actress, Best Supporting Actress, Best Supporting Actor, Best Film Editing, Best Original Screenplay - Available to stream on Amazon Prime Video.
The Whale - Best Lead Actor, Best Makeup and Hairstyling - Available to purchase or rent on YouTube and Apple TV.
All Quiet on the Western Front - Best Cinematography, Best International Feature Film, Best Original Score, Best Production Design - Available to stream on Netflix.
Women Talking - Best Adapted Screenplay - Available in cinemas.
Navalny - Best Documentary Feature Film - Available to purchase or rent on YouTube, Amazon Prime Video and Apple TV.
Guillermo del Toro's Pinocchio - Best Animated Feature Film - Available to stream on Netflix.
RRR - Best Original Song - Available to stream on Netflix.
Top Gun: Maverick - Best Sound - Available to stream on NOW, Paramount+, and available for purchase on YouTube, Amazon Prime Video and Apple TV.
Avatar: The Way of Water - Best Visual Effects - Available in cinemas.
Black Panther: Wakanda Forever - Best Costume Design - Available to stream on Disney+ and available for purchase on YouTube and Apple TV.
The Boy, the Mole, the Fox and the Horse - Best Animated Short Film - Available to stream on BBC iPlayer and Apple TV.
The Elephant Whisperers - Best Documentary Short Film - Available to stream on Netflix.
An Irish Goodbye - Best Live Action Short - Available to stream on BBC iPlayer.