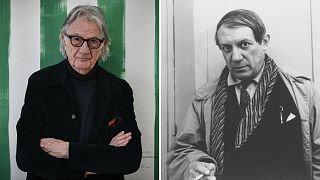 The Picasso Museum in Paris has undergone a remarkable transformation to commemorate the 50th anniversary of the death of the world-renowned artist. 
British designer Paul Smith, known for his work with colour, tailoring and unexpected details, was given free rein to reimagine the museum and has created a space that is both vibrant and thought-provoking. 
Smith's vision was to introduce a new audience to Picasso's work, particularly younger generations, and he has succeeded in doing so with his unique and colourful approach.
"I think one of the things about the task I was given, the job I was given, was to try and show it in a different way. Because, as you say, many people have seen Picasso many times. And so, he was like a pop star in the 1950s or 1960s, so it is dangerous that he could be like a decorative artist now," explains Smith. 
"But hopefully, some of the work we've shown, which a lot of people haven't seen before, might hopefully, make people realise that he was very special," he added. 
What to expect from the Paul Smith takeover
The three floors of the Hôtel Salé, which houses the Picasso museum in Paris, have been completely transformed. Its previous white walls have been replaced with pastel shades, geometric plays of natural light, and sophisticated wallpapers that match the colours of Picasso's work. 
The space is now adorned with multicoloured stripes, monochrome surfaces, and vintage wallpaper, along with midnight blue or deep green carpeting.
Smith's signature multicoloured stripes, which have become synonymous with his brand, are everywhere in the museum. The British designer has also printed them on the walls, creating a playful and vibrant atmosphere that perfectly complements Picasso's work.
According to the director of the museum, Cécile Debray, the institution is not intended to be a mausoleum to the great man, but rather a space that encourages debates and reflection on Picasso's work, showing its vitality. 
From "Demoiselles d'Avignon" to collages, from the blue period to circus performances, including "Déjeuner sur l'herbe", bullfighting, Picasso's bestiary, and ceramics, Smith's design accentuates the strength and modernity of the Spanish master.
The exhibition also includes works by a dozen international contemporary artists who take up certain ideas of Picasso, including Guillermo Kuitca, Obi Okigbo, Mickalene Thomas, and Chéri Samba. 
Born in Malaga, Spain, in 1881, Picasso spent most of his life in France and died in Mougins at the age of 91. 
The 50th anniversary of his death will be marked by some forty exhibitions around the world and numerous conferences, with the inauguration in the fall in Paris of a research center close to the museum. 
The Picasso Museum in Paris is a fitting tribute to the artist, and Smith's design perfectly encapsulates the Spanish master's legacy, encouraging visitors to look at his work in a new light.
'Picasso Celebration: The Collection in a New Light!' runs until 27 August at the Musée Picasso.