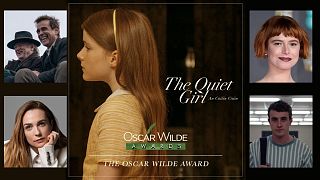 -
Copyright

US-Ireland Alliance
Irish talent has made a big impression in Hollywood this year, with 14 Oscar nominations including a first-ever nomination for a movie in the Irish Language: The Quiet Girl.
The Banshees of Inisherin is up for nine awards, while Aftersun has earned Kildare-born actor Paul Mescal his first Best Actor nomination.
Just before the Oscar Wilde Awards – the annual pre-Oscar event that Steven Spielberg has called one of the best parties in LA, held this year on 9 March – Euronews Culture spoke to Trina Vargo, former Foreign Policy Advisor to Senator Ted Kennedy on Capitol Hill and the President / founder of the US-Ireland Alliance.
We discussed the role of the Alliance in celebrating the Irish in the arts and in bringing together the creative energy of American and Irish artists, as well as how these nominations deserve more than to be a flash-in-the-pan moment. 
Euronews Culture: You created the US-Ireland Alliance in 1998 – how do you promote Irishness in the US?
Trina Vargo: The main idea behind the organization was to build a relationship for future generations simply because demographics are changing so much in the US. Fewer and fewer Irish come here, and those connections get lost. The idea was: 'Could we build future generation connections to Ireland?' We do that in different ways. The thing we're most known for is something called the George J. Mitchell Scholarship. It was named after the senator who sorted the Good Friday Agreement in Northern Ireland and who helped bring peace. Every year there's a nationwide competition in the US to select 12 Americans to go study in Ireland or Northern Ireland on post-graduate study. It can be in any field, and the idea there is to connect future generations of Americans, regardless of their ancestry. You don't have to be Irish-American to be part of all of this.
And then there's also the Oscar Wilde Awards…
Yes, that came about because one year we held a golf tournament in Ireland and playing was the then-chairman of Walt Disney Studios. I was asked to set up a photo op for that gentleman with someone in Ireland who they'd done a lot of business together but they'd never actually met. And I realized then that if we just watch movie and television, people in the industry assume we all know each other and, in many ways, you can be in a movie with somebody without ever seeing that person. So, the idea was how we could get people together that allows people in Ireland to come over around the time of the Oscars to meet with their counterparts in the industry in LA, in hopes that things will come of it.
2023 has already been quite a banner year for Ireland – so much Irish talented nominated for the Oscars, and one Irish series stands out so far – Extraordinary, by Emma Moran…
Yes! You know, I've been watching that! It's brilliant and very clever. And yes, Ireland are definitely having a great year – it's the most Irish Oscar nominations in a year, and you have the first ever Irish language film to be nominated…
The Quiet Girl, which is such a beautiful film.
It really is. I'm sure France, for instance, is used to being nominated for Oscars, but this is a massive achievement for Ireland.
So, with The Banshees of Inisherin and its many nominations, Paul Mescal nominated for Aftersun, The Quiet Girl… How does one ensure that it's not a one-year / flash-in-the-pan moment?
I think there are a variety of factors that go into play of this success and how you keep it going. One for example is Screen Ireland and Northern Ireland Screen, who have put into place the kinds of tax credits that make the island an appealing place to film. You now have more film studios there. And coming to our event will be a lot of people in Hollywood who decide where their movies get produced. And so, the way you capitalize on this moment is, let's face it, a lot of people wanting to come to the cool Irish party in Hollywood this year, and if that gets people in the door who will then decide to make a film there, then it'll be mission accomplished!
Have there been any meetings or celebrities you've encountered over the years through the Alliance that have marked you in any way?
For the Oscar Wilde Awards, I'm just really impressed by all the creative talent. I find it to be such a generous community, and there are a lot of artists who stand out. You're in this business – for the most part for most people – because they love it and it's a passion, so I'm inspired every year by most people that I meet. 
Like last year, one of our main sponsors of our Hollywood event was a gentleman named Michael Hackman and he owns a lot of studios including three in Ireland. We met, I talked for about 10 minutes about our scholarship programme, and on the spot, he said 'I'll give you $100,000 for this'. That's the sort of thing you don't expect and you're immensely grateful for. If you look at all the other kinds of scholarships that are like ours – the Schwarzman, the Gates – all these scholarships were created with the wealth of the donor who created them and named them for themselves. I created ours – no money, female, not a billionaire, and I'm looking to build an endowment so that it can go on. 
So, to answer your question – you never know. You'll meet people out of context who suddenly take an interest in something else that you're doing and that's the value of it all. It's all about putting people in a room, and then things can happen that you won't have expected. And many people come back to us from the Hollywood event and will tell me later 'Oh, I just did a movie with this person because I met him at your event and just started chatting!' So it's less about the formality and the honours people are getting, and more about getting all these people in a room together and hoping that things come from that.
Beyond the awards, how does the alliance's role differentiate itself from that of an embassy?
I think it's a little bit different in the sense that our organization is about the relationship in a sort of peer to peer, business to business, person to person level, as opposed to representing a government. I don't represent Ireland. For me, it's about what is a win-win for the US and Ireland and you build a relationship without promoting just a government's policies, if that makes sense.
In your opinion, how strong and influential is the Irish community in the US?
Quite honestly, it's on the decline. For a couple of reasons, the main one being demographic. The further you get away from generations who came here from Ireland, the less people check on the US census box that they're Irish-American. When I worked on Capitol Hill, around 44 million people saw themselves as Irish-American. Now, it's down to about 34 million. And that's only going to continue to decline. There's no question that historically, Irish-America had a lot of influence – many were in politics, and those generations are going. Even when you look at the current congress... Nancy Pelosi was the speaker of the House and was very involved in Ireland – she stepped down from that role. And over time, you'll see what is a natural decline in the Irish having a lock on politics. And that's why I started the organization, because you could see this was coming 25 years ago. If we don't put in the resources and the effort to interest Americans, regardless of their backgrounds, in Ireland, then that relationship will continue to fade.
How does one ensure that it's not a one-way relationship? What does Ireland get out of this?
In many ways, it's more valuable for Ireland, simply because they are losing those connections to US leaders in government for example. If they want to have the ear of a future American president who doesn't happen to be Irish-American, that's going to take effort. When you look at something like the Hollywood event, that led to J.J. Abrams filming Star Wars in Ireland. That means hundreds of millions of dollars for the Irish economy in tourism. So it is definitely a win-win.
No one wants to be pigeonholed or to see old tropes and stereotypes trotted out. How does the Alliance fight against these with regards to the Irish identity?
The key for us is to be very inclusive, and we were being inclusive of everyone before everybody was talking about this issue. That's why from the moment we started the scholarship, we said that you don't have to be Irish-American to win the scholarship. We have as many Asian-Americans, Jewish-Americans, African-Americans – the key is to show that in America that the demographics of Ireland are changing. There are a lot more people in Ireland who are foreign-born, which didn't used to be the case if you were going to Ireland in the 80s. Everybody was white. And now, Ireland has become more multi-cultural. And we get to show that. I think it's good for Irish America and America to see Ireland in its contemporary form, as opposed to the tropes and the stereotypes.
It's cringe-worthy that these tropes still exist, in Europe and still in the UK…
Yes, well, Brexit has not made anything much easier. But in many ways and in many countries, we've moved on from a lot of the stereotypes, and I hate to say that it's generational, but a lot of it is generational. If you look at Northern Ireland, the number of people who now don't identify as being Nationalist or Unionist but call themselves Other – I feel like everywhere, the more the younger generation rises up and refuses to be stereotyped or pigeonholed as you said, it's better for everything. I think the future of Northern Ireland, for example, will rest on young people who just refuse to go with these old sectarian tropes. Irish America has to do the same thing, the UK has to do the same thing, Ireland has to do the same thing.
There are also quite a few regular slip-ups – the BBC, for instance, recently got Paul Mescal's nationality wrong when it came to the BAFTAs… Are you confronted with this frustrating Irish-English mix-up that frequently sees the UK at fault?
You can get outraged about it, or you can laugh it off as a momentary bit of ignorance on somebody's part. They will be told by enough people that Paul Mescal is Irish, for example. To me, of all the things that you have to combat and fight against, you don't like it, but enough will speak out so that they'll correct themselves moving forward.
Finally, the Oscars are nearly upon us, as well you know…
You're not going to ask me for predictions are you?
I certainly am!
(Laughs) You can't win in this, because there are two Irish people in several categories! I'm just going to say that I hope that any and every Irish person who's up for an Academy Award this year wins! I think that as a community, the Irish are all pulling for each other, so whichever way it goes on the night, they've had a great year. I'm one of these people who think that just being nominated is a fantastic thing, but also getting to work in your profession and make a living at being an actor is a massive achievement in and of itself. So I wish them all well, and I won't be taking any sides! (Laughs)
I'm going to be less diplomatic and say that I'm crossing my fingers for the Banshees cast…
(Laughs) I mean, to have four acting nominees – Kerry Condon, Brendan Gleeson, Colin Farrell, Barry Keoghan – from one film, is amazing! This year, we're honouring Kerry Condon, Jessie Buckley and Eve Hewson at our event, but in past years, we've honoured Colin and Brendan and Barry – I have a special place in my heart for all of them, so I hope they all do well this year.
The Oscar Wilde Awards are held in Santa Monica on 9 March 2023. Check out the video above for extracts of the interview.