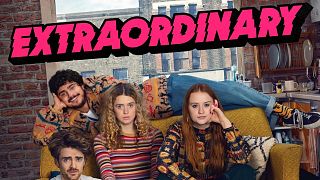 -
Copyright

Hulu - Disney+
With no power comes great quarter-life crises
Picture a job interview.
Not the most fun at the best of times.
Then, under the superpowered influence of your interviewer, whose "thing" is that they can make you tell the truth, you find yourself admitting to your crippling insecurity and selfishness, and blurt out that you might be a bit racist and that the reason you're sitting weirdly is because your tampon may have come out.
Thus begins Extraordinary (now out on Disney+), which introduces us to our oversharing heroine, 25-year-old Jen (Máiréad Tyers), who lives in London.
She is powerless – in every sense of the word.
She's got a naff job at a costume shop, and a love life which resumes itself to a dashingly smug booty call using her for casual hookups who when he's not plagiarizing RuPaul is flying out the window when her back is turned.
Oh, and she lives in a world in which everyone acquires a superpower when they turn 18.
Some can fly. Some get superspeed, telekinesis or the ability to make people climax with a single touch. One gets gifted an arse which doubles up as a 3D printer. No matter how impressive or next-to-useless the superpower is, everybody gets an ability.
Except for Jen.
The only thing she's got going for her is her friendship with longtime (flat)mate Carrie (Sofia Oxenham), who is in a long-term relationship with their other flatmate, the delightful but sponging manchild Kash (Bilal Hasna). Carrie's power is that she serves as a conduit for the dead but she wonders if anyone actually cares about what she has to say, as opposed to the dead people she's channeling. As for the unemployed Kash, he can turn back time – within limits – but has only got time for his pet project: assembling a male team of vigilantes to "protect women", whilst ironically abandoning his own girlfriend's needs.
There's also Jen's electronics-controlling mum Mary (Siobhán McSweeney, Derry Girls' Sister Michael), who is "baffled by (her daughter's) choice of crisps", and her puffed up half-sister Andy (Safia Oakley-Green) who frustratingly gets her superpower bang on time for her 18th birthday.
It all adds up to a potent recipe for a quarter-life crisis that includes poor choices and a quest to save up enough money to get enrolled in a Discovery Clinic that promises to unlock suppressed superpowers. That, and a stray cat the flatmates christen Jizzlord will bring about some problems of their own…
**_"Maybe the real power is just being yourself."
_"That's the dumbest f**king thing I've ever heard in my life."**
If that all sounds like a joyous hybrid between Misfits, The Boys, Pulling and Disney's very own Encanto (though much less family-friendly), that's because it is.
Extraordinary's concept isn't entirely new and the superpower-as-a-metaphor-for-awakenings is well-trodden by now. Whether it's werewolves, vampires, cannibals or bargain bin X-Men powers, allegorical rite-of-passage teen dramas are as old as heartbreak.
However, 28-year-old debut screenwriter and series creator Emma Moran keeps this eight-episode series fresh and immensely bingeable by making it a superhero show that's less about deconstructing the genre and more focused on being a genuine and funny coming-of-age tale. It's not a sitcom about making superpowers a stand-in metaphor, but about finding one's place in the world.
"Let's find out how shit we are together," as one character puts it best.
It's a canny move, as Marvel / DC superhero fatigue is real, and beneath the high zinger rate and excellent sight gags lie some hard-hitting (and often heart-breaking) truths about friendship, grief and a solid exploration of martyr syndrome.
The characters aren't always likeable, specifically Jen, who is prone to more than a touch of self-victimization and drags everybody she cares about down with her existential funk. But Máiréad Tyers is a force to be reckoned with, imbuing Jen with energy and redemptive charm to spare, never failing to make her blunders uncomfortably relatable.
Her dynamic with Sofia Oxenham is what keeps you hooked throughout. The Jen-Carrie double act is an absolute joy to watch. From Carrie summoning Hitler to cheer her friend up by taunting him ("Everyone's cool with interracial marriage now… And you invaded Russia in winter like a big dumb bitch!") to the heartrendingly real friendship fracas they have over co-dependence and lingering school memories, their bond has a ring of true friendship. They are Extraordinary's real superpower. Plus, Oxenham navigates her character's powers brilliantly, making her gift simultaneously hilarious and unexpectedly moving.
Their beating-heart-of-the-series bond reminds you throughout that what this show, amongst other things, is about the fact that no matter your situation (or age, for that matter), feelings of uncertainty and that everyone around you has more figured out than you do have the pesky habit of prevailing. People need all the time they require to figure things out. And with the right people around, self-imposed lowered expectations can be shattered.
**_"You're such a brave little soldier."
_"I haven't got a superpower yet, I'm not terminal."**
Not that there isn't room for improvement. Some hackneyed arcs do let the side down; Kash's misadventures can't help but feel like a drag at times, and the Jizzlord storyline feels predictable.
However, these minor bum notes won't immediately register, as the addition of a racist bunny named Buttercup, that call from a trunk and the whip-smart writing throughout will have you giggling uncontrollably. As for the wonderfully curated soundtrack (featuring the likes of Wet Leg, Self Esteem, Yeah Yeah Yeahs, The Magnetic Fields, Spiritualized and The Clash), you'll be grinning from ear to ear.
By the end of the 4 hour-long first season, you'll have more than enough proof that Emma Moran is the real deal, showing once again that female Irish talent is what TV dreams are made of. After Derry Girls, This Way Up and Bad Sisters, make this extraordinarily satisfying series your next streaming obsession. And bring on the already commissioned second season.
Extraordinary Season 1 is now streaming on Disney+ and Hulu.