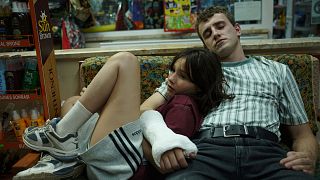 There's often talk about the films that are made to be seen on the big screen. Bombastic blockbusters like Top Gun: Maverick absolutely deserve the full experience of a massive projection and surround sound speakers.
But the cinema experience, sitting alone yet together in a quiet room as all your auditory and visual senses are devoted to a single experience with no distractions is one that also benefits a quieter type of film. The kind of film that shuffles into view with a modest tale of a few individuals.
Watch a small quiet film like Aftersun in the cinema and its humble story stretches beyond the margins of the screen. Most of this comes down to the impeccable work by debut director Charlotte Wells.
Beginning its Europe-wide release this week, Aftersun is about Sophie (Frankie Corio), an 11-year-old Scottish girl going on a family holiday with her 30-year-old father Calum (Paul Mescal). Told through images of a sun bleached Turkish resort in the 90s, Sophie and Calum also document their holiday through recordings on a MiniDV camera.
As Sophie jokes around with her father, a complex figure emerges of a man struggling to look after a daughter amid financial, social and mental pressures. Calum is barely coping, but routinely puts a brave face on for his intelligent daughter.
Wells weaves the images from the shaky digital camera into a fine tapestry that - combined with flashes of a future Sophie's life - create the impression that these aren't present tense images. All filmed footage is of a past event, but Wells brings specific attention to the way footage can only be re-experienced, as the audience shifts from experiencing the events of the film in real time, to understanding we are party to a 30-year-old Sophie remembering.
It's in this cinematic turn of the audience's position that the nature of Wells' sharp drama becomes apparent. Corio is brilliantly playful and intuitive as a young Sophie, smart yet too innocent to fully notice Calum's pain. But the cameras capture the afterimage of that pain.
Aftersun is used to balm sunburnt skin. Unlike fire, a sunburn happens while you're outside having fun in the heat of the day. It's only later that the damage becomes apparent. For the most part, Aftersun is a film that shows a beautifully rendered recollection of a father-daughter holiday. On its attention to minute detail and realism dialogue alone, it would be a fantastic watch, but through its open communication with film images as memories, it is a masterpiece and one that deserves to be seen in a cinema.
Additionally, as Calum, Mescal is marking himself out as one of the brightest young acting talents. He manages to find wells of empathy in characters others couldn't dream of. Most notably in how he has found more humanity than I've ever seen in Stanley Kowalski, who he is currently playing in the West End production of 'A Streetcar Named Desire'.
For his leading role, Mescal has been nominated for the Best Actor award at this year's Oscars. The fact that that's the only nomination Aftersun got is the biggest snub of the whole season.
Aftersun is currently in cinemas across mainland Europe.