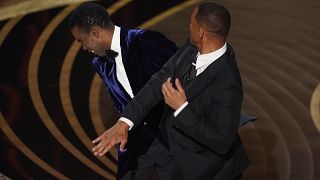 -
Copyright

Chris Pizzello/Invision/AP
Crisis teams are typically associated with war zones, but following last year's 'slap-gate', one will be in place at the 2023 Oscars ceremony.
They've been put into action after 2022's Academy Awards when Will Smith slapped fellow actor Chris Rock across the face on stage after he'd made a joke about Smith's wife's bald head. Jada Pinkett Smith had recently shaved her hair off after an alopecia diagnosis. After the infamous slap heard around the world, Will Smith returned to his seat and repeatedly shouted "Keep my wife's name out your f***ing mouth".
After the debacle, Oscars organisers decided that a crisis team is necessary to handle any similar real-time incidents - after admitting the situation was not prepared for properly.
Speaking to Time magazine, the Academy's chief executive Bill Kramer explained that the new unit had "run many scenarios" in order to be "prepared for anything", adding, "because of last year, we've opened our minds to the many things that can happen at the Oscars".
This follows Academy president Janet Yang acknowledging that the response to the shocking slap hadn't been quick or efficient enough.
Will Smith was allowed to remain at the ceremony and later collect the best actor Oscar for his role in King Richard. After the event, he resigned from the Academy but it took several more days for them to ban him from future events. He was barred from the Oscars and other Academy events for ten years.
Banking on Kimmel
Ahead of this year's ceremony on 12 March, the crisis team has already been deployed.
Explaining how the crisis team would cope with any potential issues on 12 March, Kramer cited host Jimmy Kimmel as an asset. The American TV star, who presents the eponymous late-night talk show Jimmy Kimmel Live! was able to steer the 2017 Oscars ceremony back on track after La La Land was announced in error as the winner of Best Picture in place of real winner Moonlight.
Kramer said the Academy had put Kimmel in place as host as, "things don't always go as planned, so you have a host in place who can really pivot and manage those moments", adding that audiences "feel very safe and engaged with his energy".
2022's awards were hosted by comedians Wanda Sykes, Regina Hall, and Amy Schumer, who have less experience with live audiences - and it's unlikely the Oscars will go down that path in the future. In fact, Kramer says he hopes this year's ceremony will mark "the beginning of a lovely, long new relationship" with Jimmy Kimmel.
There has already been some controversy this year even prior to the awards ceremonysurrounding Andrea Riseborough's nomination for Best Actress after she was championed by stars including Gwyneth Paltrow and Edward Norton for her role in the little-known indie film To Leslie.
Questions had been raised over whether the campaigning contravened Academy rules but the team put out a swift response, saying that the issues didn't "rise to the level that the film's nomination should be rescinded". Bill Kramer told Time that the decision had taken 'only' six days to make.
The Los Angeles-based event will take place on 12 March, with Everything Everywhere All At Once leading the nominations with 11 nods, Irish drama The Banshees of Inisherin and war epic All Quiet On The Western Front following closely behind with 9 nominations each.