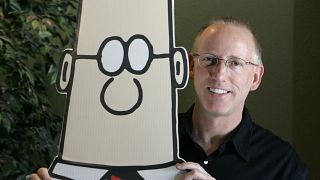 Dilbert creator Scott Adams has been dropped by a number of US publishers of the long-running cartoon after a YouTube video emerged of him using racist comments.
In the controversial video, Adams launched into an attack on Black Americans, saying they were part of a "hate group" and fellow white people should "get the hell away" from them.
In response, several US outlets, including The Washington Post and The Los Angeles Times, dropped the cartoon, which has been published since 1989.
The popular cartoon strip has been a mainstay of American newspapers since then and features an office worker and talking dog navigating their way through corporate culture.
Dilbert's distributor Andrews McMeel has also severed ties with Adams, saying in a Twitter statement, ''…we will never support any commentary rooted in discrimination or hate. Recent comments by Scott Adams regarding race and race relations do not align with our core values as a company".
The cartoonist tweeted that his new book, set for publication in September, had also been dropped.
Adams made the comments, which have been widely viewed as encouraging segregation, in response to a survey conducted by polling company Rasmussen Reports. Respondents were asked to agree or disagree with the phrase 'It's OK to be white'; it's been mired in controversy since its emergence in 2017 as a trolling campaign and subsequent use by white supremacists. 
Adams called those who disagreed with the phrase part of a "hate group", adding, "I would say, based on the current way things are going, the best advice I would give to white people is to get the hell away from Black people".
There has been an increase of hate speech on Twitter since Elon Musk's difficult takeover in October 2022.
The billionaire himself even waded into the debate, tweeting that the media are 'racist against whites & Asians [sic]'. 
In the same tweet defending Adams, Musk also alleged that "elite colleges & high schools in America" are similarly racist against white people and Asians.
In the YouTube video, Adams acknowledges that he has destroyed his career and that most of his income will disappear almost immediately.