'Life used to be beautiful here': Saltivka shows scale of destruction caused by fighting in Ukraine
Comments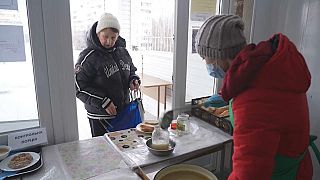 Blown-out windows, and the burns left by old fires: a building in the northern Saltivka suburb of the city of Kharkiv is a stark testimony of the scale of destruction caused by the fighting.
The city is at the entrance point to Kharkiv, only some 20 kilometres away from the border with Russia. Before the war, some 40,000 people lived in the area. There are only between 2,000 and 3,000 people living there now.
Olga and her sister left the area after their homes were bombed last year. They now live in Kharkiv, but often return to Saltivka to visit their relatives.
Each trip back to the suburb brings back painful memories. Olga's husband was shot when he was getting fuel at a gas station.
"Life used to be beautiful here," she said. "To be honest, I cannot look at this without tears. I have no words.
"They destroyed everything. They left us without our loved ones, without our parents, without husbands, without sons, without our previous life, without jobs, without anything."
Svetlana, another former resident of the area, came back from Poland with her mother to check on their home and collect their belongings.
"We don't have light," she said. "We've been flooded. We don't have light. We live, with cracks. With mould. We live like hobos"
Reconstruction is underway in Saltivka, but the task is huge, and the future is uncertain.
A local school has been turned into a humanitarian hub. Some of the women who used to work at the school canteen now deliver hot meals to hundreds of people every day.
"We left for about half a year, and then we returned. We live at home.
"When we were away, I understood that at the first opportunity, I need to return here, and do the right thing, to ease the burden on people. That's why we returned, we work and help," Veronika Semenivna, a volunteer at the Saltivka humanitarian centre, told Euronews.
"We want peace. We don't want anything else. And for everyone to be alive, and to live as we used to live before. This is the only thing we want. "
Aid workers and beneficiaries alike are adamant in the suburb. They say that they will stay in Saltivka until victory comes.
"My son is on the frontline and I work as a teacher. I give classes online. And I will stay right here with my Kharkiv and with my Ukraine," Zoya, resident of Saltivka said.