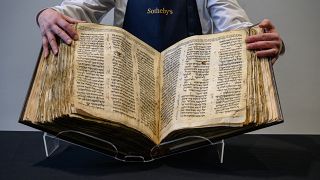 The oldest and most complete Hebrew Bible, more than a thousand years old, will be auctioned off in May for up to €50 million.
The Sassoon codex, named after its most famous owner, David Solomon Sassoon (died in 1942), dates from 900 AD and is "the most complete Hebrew Bible (...) estimated at between 30 and 50 million dollars, among the most expensive manuscripts ever sold," Richard Austin, head of ancient books and manuscripts at Sotheby's, told AFP.
The sale will take place during the classic spring auction season for contemporary, modern and impressionist art, organised by the major auction house, Sotheby's.
Asked about potential buyers of this codex, Mr. Austin said the list of buyers was "a bottomless pit". It is "a founding text of civilization, it's difficult to find a text that has had more influence than the Bible in the history of humanity," he said.
This bible in Hebrew - the original language of the Old Testament which also contains passages in Greek and Aramaic - "belonged to important collectors in the 20th century. Obviously it's possible that it goes to an institution to be studied there, including abroad," he said, "whatever the beliefs", in reference to the text's importance to Judaism, Christianity, Islam and secular theologians.
The Codex Sassoon is in exceptional condition, missing only a few pages and connects the 24 books of the Hebrew Bible to the famous Dead Sea Scrolls that date back to the 3rd century BC.
While the Dead Sea Scrolls cover large sections of the Hebrew Bible, its incompleteness and lack of chapter indication make it a hard text to study. The Codex Sassoon's complete examples of the five books of the bible, the writings and prophets provides a more holistic basis to study the evolution of Abrahamic monotheistic traditions.
This Bible, more complete than the Aleppo codex, has been authenticated by carbon 14, "confirmed by the paleographic and codicological research ... and survived more than a millennium in the hands (of collectors) public and private," said with AFP Sharon Liberman Mintz, specialist in texts of Judaism at Sotheby's.
The art auction company boasts in a statement to be the specialist in the market of manuscripts and ancient books. In November 2021, it sold an original copy of the Constitution of the United States of America for a record price of $43 million. The document was acquired by the American billionaire Kenneth Griffin, owner of the investment company Citadel, who lent it to a museum in Arkansas.