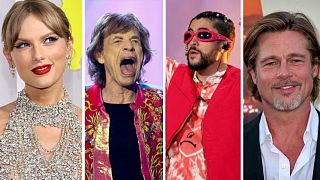 -
Copyright

Getty Images, AP
Forbes has published its annual breakdown of the highest-paid entertainers, and the top spot may surprise you…
On the music front, the list revealed that Taylor Swift, The Rolling Stones and Bad Bunny were among the biggest revenue-raisers in 2022.
Taylor Swift came ninth on the list, totalling $92 million in earnings following the release of her album 'Midnights' last October and ticket sales for her upcoming 'Eras' tour. It marks the 33-year-old's sixth time on the highest-earners list, having previously topped it in 2019. 
According to Forbes, income streams from physical record sales, streaming, digital downloads, licensing and sync were the primary source of the superstar's major income last year.
She remains the only woman on the Top 10 list.
Puerto Rican rapper Bad Bunny is the newcomer to the list and took number 10 with $88 million. According to Forbes, the artist can attribute much of his financial success to his massive Último Tour Del Mundo and The World's Hottest Tour, on top of endorsements from Corona, Cheetos and Adidas.
The Rolling Stones came in at number 7 with $98 million, while Sting was the highest-earning solo artist after having sold his solo and The Police publishing catalogue to Universal Music Group last February and pocketing $210 million. He holds the second spot on the list.
But the top spot belongs to Genesis with $230 million. The band also sold their catalogue, to Concord Music Group, last September. The deal comprised publishing rights and a selection of recorded music income streams from the group, as well as solo income streams from Phil Collins.
Other highest earners belong to the world of film and TV.
Titanic and Avatar: The Way of Water director James Cameron stood at $95 million, placing him at number 8. Brad Pitt made $100 million from selling the majority of his production company Plan B (which earned him the number 6), and Tyler Perry ended the year with $175 million, making the actor-director-writer take the third place.
Perry is the list's sole billionaire with an estimated $1 billion fortune.
South Park and The Book of Mormon creators Trey Parker and Matt Stone were at number four thanks to their $900 million deal with Paramount, while Simpsons masterminds James L. Brooks and Matt Groening occupy the number five spot thanks to a 2019 streaming deal that migrated all 30 seasons to Disney+.
All in all, these artists and celebrities made more than a combined $1.3 billion last year.
Here is the full list of the highest-paid entertainers of 2022:
Genesis – $230M
Sting – $210M
Tyler Perry – $175M
Trey Parker & Matt Stone – $160M
James L. Brooks & Matt Groening – $105M
Brad Pitt – $100M
The Rolling Stones – $98M
James Cameron – $95M
Taylor Swift – $92M
Bad Bunny – $88M