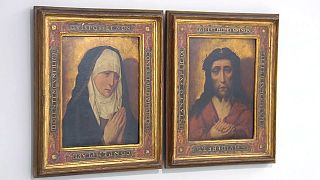 Spain's Museum of Pontevedra has returned two paintings to Polish authorities after experts determined the works had been stolen by Nazi forces during the Second World War.
Attributed to the school of the Dutch painter Dieric Bouts, they were taken from the Czartoryski collection in Gołuchów when the city was under German occupation.
The museum handed the 15th-century paintings, 'Mater Dolorosa' and 'Ecce Homo' to a delegation from the Polish Ministry of Culture.
"The unit for the recovery of plundered works of the Polish Ministry of Culture, identified these paintings through one of our Facebook posts, publicising some of our works," said museum director, José Manuel Rey.
Although the paintings were identified by Polish officials in 2020, they first had to obtain official permits for the transfer to take place.
"We're helping to restore an injustice, helping to restore plundered art, helping in whatever way we can to make the world a better place," said César Mosquera, Vice-President of the Pontevedra Provincial Council at the handover ceremony.
Poland lost a large part of its cultural heritage during the Second World War.
About half a million works are still missing and the Ministry of Culture has a stolen art division that maintains a database of them.
It hopes that, like these two paintings, many of them will one day return home.