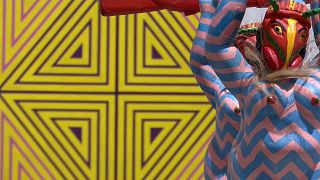 -
Copyright

Museo Reina Sofía
Euronews takes a look at what's on culturally across Europe.
Vienna, Austria
Abstract expressionism is on offer this month at the Albertina Museum in Vienna.
The exhibition 'Ways of Freedom' looks at the works of the artists of the New York school, such as Jackson Pollock, and their counterparts in 1950s Austria, like Maria Lassnig.
The artists rejected figurative representation and opted for a radical approach to form, colour and material as an expression of individual freedom, giving their creations spontaneous artistic gesture, great meaning and symbolic charge.
Paris, France
Paris' Orsay Museum takes visitors on a journey showcasing Edvard Munch with an exhibition featuring his 100 works.
Spanning over 60 years, the display proves that the art of the Norwegian painter can't be limited to his famed composition 'The Scream.'
Munch's fears can be seen in the sinuous lines of his compositions, paintings, etchings, lithographs and wood carvings, as well as the powerful and dynamic colours he used.
The event at the Musée d'Orsay runs until March 26.
Madrid, Spain
In the Spanish capital 'Margarita Azurdia. Margarita Rita Rica Dinamita' is the first monographic exhibition in Europe dedicated to the Guatemalan artist, a key figure in Central American culture in the 20th century.
The name of the exhibition is a reference to the several pseudonyms the painter and sculptor worked under until her death in 1998.
Her anti-system and feminist thinking clashed with the conservative society of her time.
The works of Margarita Azurdia are on display at Madrid's Museo Reina Sofia until April 17.