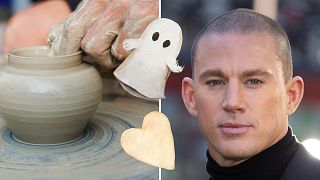 Get your pottery wheels out of the attic and dust off your best hunk of clay... Because the film that made pottery and ghosts sexy is coming back. 
And this time, Channing Tatum is involved.
Hollywood's hunk of chunk - Tatum, not the clay - has revealed that his production company Free Association has the rights to the 1990 romance classic Ghost.
The original starred Patrick Swayze, Demi Moore, and Whoopi Gholdberg in a story about a dead man (Swayze) who sets out to save his girlfriend (Moore) from his killer with the help of a psychic (Goldberg).
An instant classic, the ghost story told from the perspective of a ghost grossed a spookily impressive $505 million from its $22 million budget and was nominated for five Oscars, winning for Best Original Screenplay. It's a must-see in the impressive back catalogues of all three of its main stars, and even spawned a West End musical and a Japanese adaptation.
But the true legacy of Ghost is in its soundtrack, featuring The Righteous Brothers' 'Unchained Melody', as well as that pottery scene. 
We all know the one. The sequence where Swayze holds Moore as she sculpts a bowl or a vase or a… who knows, everyone was focusing on Swayze and Moore!
The iconic scene has been spoofed and parodied by pretty much everyone under the sun. But now, Tatum wants to remake it entirely.
Speaking to Vanity Fair, Magic Mike star Tatum says it could have him in Swayze's role and the remake will likely reconsider many of the "problematic stereotypes" of the original film.
"We're going to do something different," he said. "I think it needs to change a little bit."
No filming date has been whispered, and Tatum is busy at the moment: he is returning with the third and final Magic Mike film, Magic Mike's Last Dance, which debuts on 10 February, and also stars in an upcoming film that is his partner Zoe Kravitz's directorial debut.