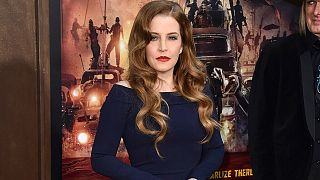 -
Copyright

Jordan Strauss/Invision/AP
Lisa Marie Presley, daughter of rock legend Elvis Presley and a singer-songwriter, has died. She was 54.
The news was announced within a few hours of her being rushed to hospital in Los Angeles after suffering a suspected heart attack at home.
Her death was confirmed by her mother, Priscilla who in a statement said: "It is with a heavy heart that I must share the devastating news that my beautiful daughter Lisa Marie has left us. She was the most passionate, strong and loving woman I have ever known."
Presley, the only child of Elvis and Priscilla Presley, shared her father's brooding charisma — the hooded eyes, the insolent smile, the low, sultry voice — and followed him professionally, releasing her own rock albums in the 2000s, and appearing on stage with Pat Benatar and Richard Hawley among others.
She even formed direct musical ties with her father, joining her voice to such Elvis recordings as "In the Ghetto" and "Don't Cry Daddy," a mournful ballad which had reminded him of the early death of his mother (and Lisa Marie's grandmother), Gladys Presley.
Her birth, nine months exactly after her parents' wedding, was international news and her background was rarely far from her mind. With the release last year of Baz Luhrmann's major musical feature "Elvis," Lisa Marie and Priscilla Presley had been attending red carpets and award shows alongside stars from the film.
She was at the Golden Globes on Tuesday, on hand to celebrate Austin Butler's award for playing her father. Just days before, she was in Memphis at Graceland — the mansion where Elvis lived, and died — on Jan. 8 to celebrate her father's birth anniversary.
She called his performance "mind-blowing" during a red carpet interview with "Entertainment Tonight."
"I really didn't know what to do with myself after I saw it," she told ET of Baz Luhrmann's movie. "I had to take, like, five days to process it because it was so incredible and so spot on and just so authentic that, yeah, I can't even describe what it meant."
Elvis Presley died in August 1977, when he was just 42, and she 9 years old. Lisa Marie was staying at Graceland at the time and would recall him kissing her goodnight hours before he would collapse and never recover. When she next saw him, the following day, he was lying face down in the bathroom.
"I just had a feeling," she told Rolling Stone in 2003. "He wasn't doing well. All I know is I had it (a feeling), and it happened. I was obsessed with death at a very early age."
She would later make headlines of her own. Struggles with drugs and some very public marriages. Her four husbands included Michael Jackson and Nicolas Cage.
Jackson and Presley were married in the Dominican Republic in 1994, but the marriage ended two years later and was defined by numerous awkward public appearances, including an unexpected kiss from Jackson during the MTV Video Music Awards and a joint interview with Diane Sawyer when she defended her husband against allegations he had sexually abused a minor.
Her other celebrity marriage was even shorter: Cage filed for divorce after four months of marriage in 2002.
Presley had two children, actor Riley Keough, born in 1989, and Benjamin Keough, born in 1992, with her former husband Danny Keough. She also had twin daughters, Harper and Finley Lockwood, with ex-husband Michael Lockwood in 2008.
Her marriage to Lockwood would end in a combative and protracted divorce that began in 2016 and still was not resolved when she died, though they were declared single in 2021. The fight saw the girls, now 15, put temporarily in protective custody in 2017. Presley and Lockwood later had joint custody, but were still at odds over the issue, with Lockwood seeking more child support from Presley.
Presley had recently penned an essay published in People about "the horrific reality" of her grief following her 27-year-old son Benjamin Keough's death by suicide in 2020.
"I've dealt with death, grief and loss since the age of 9 years old. I've had more than anyone's fair share of it in my lifetime and somehow, I've made it this far," she wrote in August.
Lisa Marie became the sole heir of the Elvis Presley Trust after her father died. Along with Elvis Presley Enterprises, the trust managed Graceland and other assets until she sold her majority interest in 2005. 
She retained ownership of Graceland Mansion itself, the 13 acres around it and items inside the home. Her son is buried there, along with her father and other members of the Presley family.