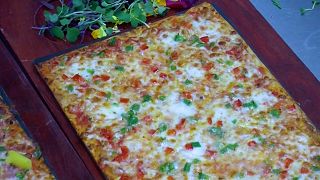 A Californian restaurant is hoping to re-invent pizza for Hollywood's health-crazed tastes.
Pizza lovers rejoice!
Crustica, a one-of-a-kind pizza restaurant, which just opened its flagship first restaurant in West Hollywood, is offering health conscious people the chance to eat the classic dish without feeling so guilty afterwards. 
Instead of greasy, carb-laden slices, these ultra-thin crust pizzas are loaded with micro greens and contain considerably less calories. 
Incredibly, Crustica's pizzas come in at around 380 to 790 calories per dish. In comparison, a single slice of regular crust pizza clocks in at around 285 calories.
The idea was the brainchild of real estate developer Nile Niami, who calls it "guilt-free pizza". 
"I think this is much more than a trend. I think this is a new way to eat an old staple, a staple that's been around 100 years, and a way to eat it that is not only fun and exciting, but it also takes away the calories put leaves all of the flavour," says Niami.
So how much is a Crustica's pizza? 
The pizzas range from $12 to $18 (€11 to €17) each, depending on toppings, with the exception of a special pizza called "The One", which sells for a staggering $3,500 (€3,300). 
It's made with 24K gold flakes, Italian imported Alba white truffles and mushroom toppings, while served on a real gold-plated dish which the diner keeps.
As ridiculous as it sounds, a large percentage of the sale goes to a great cause. 
"It also helps others because $2,000 dollars of the purchase of that pizza goes to Children's Hospital Los Angeles," says Niami.
Niami plans to make Crustica a worldwide franchise and is aiming to open 50 stores this year alone in the United States. They then hope to expand in further to the international market. 
Could Crustica be coming to a European city near you? 
We'll have to wait and see. 
For more details on Crustica Pizza, check out the video player above.