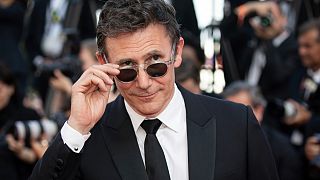 -
Copyright

Vianney Le Caer/Invision/AP
The 75th Cannes Film Festival's lineup has just been announced - and it's a lineup that included more Asian filmmakers than in previous years (partly because travel has been restricted so heavily for the last two years) and a couple of Ukrainian films that will generate a lot of publicity.
At a glance
The full list of 18 films in the competition are:
Jerzy Skolimowski Hi-Han( Eo)
Zhena Chaikovskogo ( Tchaikovsky's Wife) Kiril Serebrennkov
Mario Martone 'Nostalgia'
Cristian Mungiu, 'RMN'
Ruben Östlund, 'Triangle of Sadness'
Arnaud Desplechin, 'Frere et Soeur.'
Lukas Dhont, 'Close.'
Claire Denis with 'Stars at Noon.'
Jean et Luc Dardenne 'Tori et Lokita'
Valeria Bruni Tedeschi, 'Les Amandiers'
Ali Abbasi, 'Holy Spider'
David Cronenberg, 'Crimes of the Future'
James Gray, 'Armageddon Time'
'Kore-eda Hirokazu. 'Broker'
Park Chan-Wook 'Decision to Leave'
Kelly Reichardt' Showing Up'
Tarik Saleh, 'Boy From Heaven'
Saeed Roustaee, 'Leila's Brothers'
Starting with the undead...
Those18 films have been announced for the competition but it's the choice of opening film that has provided something of a surprise.
Director of the festival, Thierry Frémaux announced that the opening film for this year's festival (which won't be in competition) is a comedic zombie movie.
Z (Comme Z) by Michel Hazanavicius, who directed the Palme d'Or winning movie 'The Artist' back in 2011, is the film in question.
But it's not a total deviation. Cannes has a bit of a penchant for zombies - it also featured The Dead Don't Die in 2019 as an opening movie.
Palme d'Or
David Cronenberg is confirmed with Crimes of the Future, starring Vigo Mortensen. That was no surprise given his long relationship with Cannes.
French auteur Claire Denis is confirmed with her latest film 'Stars at Noon' - she won the Best Director prize at the Berlin Film Festival recently. This movie is set in Central America.
It wouldn't be a Cannes film festival without the Dardenne Brothers - and they're in competition with their latest films Tori et Lokita.
James Gray, the director of 'Ad Astra' starring Brad Pitt, will also appear in this year's competition with a new film, called Armageddon Time (which probably fits in with the cultural mood).
Broker, by Japanese filmmaker Kore-eda, is set in Korea and is about a box where unwanted babies are dropped off. Kore-eda won the Palme d'Or for his last film, Shoplifters.
Italian filmmakers Mario Martone will also appear in competition with his film 'Nostalgia'
And RMN by Romanian filmmaker Cristian Mungiu, another winner at Cannes, will also be competing for the Palme d'Or.
Another talking point of the competition is going to be Zhena Chaikovskogo (Tchaikovsky's Wife) by Russian-born director Kiril Serebrennkov.
It was widely expected to be announced as part of the lineup and is a Franco-Russian production.
Serebrennkov, whose last film was the critically acclaimed Petrov's Flu, has been an outspoken critic of the Kremlin and subject to numerous travel bans.
Special Selection
Frémaux also announced the 'Special Selection' - those who aren't in competition.
No surprises that Elvis by Baz Luhrmann and Top Gun: Maverick have been announced, as they were already confirmed.
Frémaux also confirmed that Ukrainian filmmaker Sergei Lozinitsa's movie 'The Natural History of Destruction' will also show.
Ethan Coen will make a solo directing premiere with his film 'Jerry Lee Lewis: Trouble in Mind'
Moonage Daydream by Brett Morgen will show in a Midnight screening with a film about David Bowie.
And Three Thousand Years of Longing, starring Idris Elba, and directed by 'Mad Max Fury Road' s George Miller will also appear out of competition.
Debut prize
There are several first films announced that are competing for the Camera d'Or - a highlight has to be a Ukrainian debut film by Maksim Nakonechny called 'Butterfly Vision'. Frémaux calls it a very important film, set in the Donbas region of Ukraine.
Returning favourites
Veteran director Arnaud Desplechin will be appearing again with his movie Frere et Soeur.
Holy Spider by Iranian-Danish director Ali Abbasi has been confirmed. It's based on a true story of a man who decided to "cleanse" a holy Iranian city of its prostitutes.
Belgian director Lukas Dhont won the Camera d'Or for his first film 'Girl' - he'll appear in competition this year with his new film 'Close.'
Women at Cannes
Although the press conference spoke at the start of an increasing number of female filmmakers in attendance, it should be noted that it's not evident in the Official Competition, which after all generates most of the Cannes Film Festival's publicity.
Joining Valeria Bruni Tedeschi in competition is Claire Denis with 'Stars at Noon' and American director Kelly Reichardt with 'Showing Up.' Reichardt has been getting a lot of plaudits for her previous movie, 'First Cow.'
But three out of eighteen means that they represent a sixth of the competition - that's not an impressive statistic.
South Korea makes its mark
No doubt inspired by 'Parasite' and also by the cultural supremacy of 'Squid Game' on Netflix this year, South Korea should get a lot of attention on the Cannes Croisette in 2022.
Not only is respected Korean director Park Chan-Wook in Competition with his new film 'Decision to Leave', but Japanese Palme D'Or winner Hirokazu Kore-eda's new film 'Broker' is set in Korea, with a story about a society where unwanted babies are left anonymously in a box.
Squid Game star Lee Jung Jae's directorial debut 'Hunt' ,a police thriller, will play in the Cannes Midnight Selection - out of competition.
And Cambodian-French director Davy Chou has set his latest film 'Retour A Seoul' in Korea - it'll play in the Un Certain Regard section of the festival.
Juries not quite ready
Frémaux began by talking about the 75th anniversary of the Cannes Film Festival on May 24, 2022. He says they'll use the date to talk about the future of cinema, alongside a celebration with filmmakers and artists. He says "cinema isn't dead," and the Official Selection will prove it to audiences.
Frémaux says that the Selection was chosen out of 2,200 films. He says up to 35,000 media accreditations have been given, so numbers are back to normal in terms of festival attendance.
Frémaux adds that the juries will be finalised over the next few days - he says of course normally they're announced before this press conference, but they haven't been finished as yet.