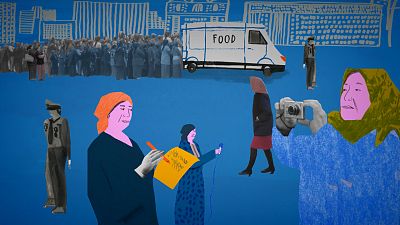 The 19th edition of the International Film Festival and Forum on Human Rights in Geneva has gone virtual. Usually every year some 40 000 visitors attend to watch and discuss films that focus on human rights violations. Around 300 filmmakers, human rights defenders and politicians from 25 countries across the globe used to be invited. But, this year, the festival has been forced to change and adapt to the COVID-19 pandemic. Participants are now encouraged to click on 'likes' instead of applauding, as physical presence is not possible.
A new format
Isabelle Gattiker is the FIFDH Festival Director. She told us that the festival had to reinvent itself. They are proposing videos on demand, that she describes as not being able to replace real cinema theatres. But they have tried "to work on public participation despite the digital format". Online audiences can comment and ask questions during the showings every evening from 8 pm (CET) from anywhere on the planet.
For the first time ever there will also be a public award, where the viewers can give a mark to the films they've watched. At the end of the festival, the film with the highest rating from the official selection will be awarded this prize.
Soltan Achilova
This 19th edition is dedicated to Turkmenian Photojournalist, Soltan Achilova. The 71-year-old was amongst this year's finalists for the "Martin Ennals Award", an annual prize known as "the Nobel prize for human rights defenders.
Her cause is to bring to the light what she calls the injustices and human rights violations in her country. Turkmenistan is also criticised by many human rights organisations for its lack of freedom of press, censorship and human rights abuses.
US civil rights movement
US American artist, activist and co-founder of the Black Lives Matter movement, Patrisse Cullors, is also participating in the festival via video conference. She'll take part to discuss the future of the black lives matter movement.
China and the pandemic
Chinese artist, activist and filmmaker, Ai Weiwei, has joined the festival several times in the past
His latest film "Coronation" which runs in the official competition, is secretly filmed in China and shows how the COVID-19 pandemic was handled there. Weiwei will give an online interview and wants to lift the veil on what really happened in Wuhan.
With the pandemic having dramatic consequences on human rights and human rights activists across the planet, Isabelle Gattiker tells us that it was very important to support them. That is why the team put all their "efforts into making the festival take place in Geneva".
A selection of 29 films is available on the festival's VOD platform. The International Film Festival and Forum on Human Rights in Geneva ends on the 14th of March.