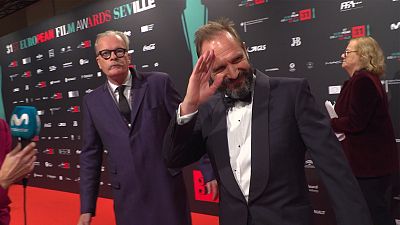 In a sparkling ceremony, Seville hosted the 31st edition of the European Film Awards. The film awards are Europe's most prestigious and were launched in 1988 to give European movies a buzz and a boost, and to honor the best in the cinema industry. And needless to say, the red carpet in Seville was packed with stars and film professionals from across Europe.
Paweł Pawlikowski's Cold War scoops top awards
It was English actor Chiwetel Ejiofor, who has played in movies of top film directors like Steven Spielberg, Woody Allen, Ridley Scott and Spike Lee, who announced the winner of the top prize, the award for Best European Film 2018 for the movie Cold War.
And the movie Cold War by Polish film director Paweł Pawlikowski was certainly the big winner at this year's European Film Awards, scooping many of the top honors.
The love story set in post-war Europe won a total of five awards, including that of best film, best director, best screenwriter, best actress for Jaonna Kulig and best editing.
"The film talks about European destiny, a very European sensibility and history that crushes people but sometimes brings out what is best in people – it's a very European film I suppose," said Pawel Pawlikowski in an interview with Euronews' Wolfgang Spindler.
Marcello Fonte wins Best Actor award for his role in Dogman
Slovakian-Hungarian actress Alexandra Borbély announced the Best Actor award, which went to Italian actor Marcello Fonte for playing a dog groomer in Matteo Garrone's movie Dogman.
Dogman was also awarded for best European Costume Design and best Hair & Make-Up.
And 40 year old Marcello Fonte explained to Euronews that he prepared very carefully for the role of the dog groomer.
"It was three months of preparation, I worked for 3 months in a beauty salon for dogs, washing dogs from 9 in the morning until 7 o'clock in the evening to understand the stress and work of being a dog groomer," said Marcello Fonte in an interview.
Ralph Fiennes wins special award for European achievement in world cinema
Spanish actress Victoria Abril announced a special award for European world cinema achievement for Ralph Fiennes for his European achievement in world cinema. "The European world cinema achievement award goes to Ralph Fiennes," she said.
The 55 year old English actor, film producer and director can look back on over 30 years of an illustrious career.
"I am thrilled about this and I was moved to see all that work they showed. I have forgotten so many of those films. All those little clips you saw are the result of extraordinary directors, actors, writers and people who have made things and then they invited me to be part of it, so I feel very lucky," said Ralph Fiennes in an interview with Euronews.
Lifetime Achievement Award for Carmen Maura
Spanish actress Carmen Maura, best known for the films she made with Pedro Almodóvar, was overwhelmed as she received a life achievementaward.
"It never happened like that with me because normally I am able to be an actress... I have never been in a situation like this... It's the first time in all my life like an artist… I have never cried this way, it was very moving," said an emotional Carmen Maura.
Special EFA prize for Costa Gavras
Wim Wenders announced the honorary award of the EFA President and Board, which went to 85 year old Greek-French film director and producer Costa Gavras, who was honored by the European Film Academy with a special prize for his career.
"It's a big emotion and a honor for me tonight to be here," said Costa Gavras as he accepted the award.
The Award winners are chosen by the more than 3,500 members of the European Film Academy, which includes film professionals and film critics from across Europe.