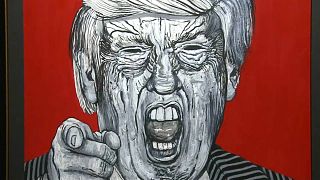 Guerrilla artist known for his grotesque take on American politicians casts an eye on the Trump Administration.
Robbie Conal takes aim at everyone from the Vice President Mike Pence to the former advisor Steve Bannon and Kellyanne Conway.
The exhibition, title "Cabinet of Horrors" shows the 74 year olds work also on the streets of Los Angeles.
Artist Robbie Conal says, "It's supposed to be in a place where it is not supposed to be and to kind of surprise people and tickle them when they are on their way to work or whatever they're doing in their daily lives into thinking about these people who I think have abused their power and our name."
Los Angeles Resident Carole Patchett, 68, says, "All of Robbie's work, really gets at sort of the evil behind the very, very thin masks that these people wear."
The exhibition runs through until December 8th at the Track 16 Gallery in Los Angeles and then will be show in Washington.