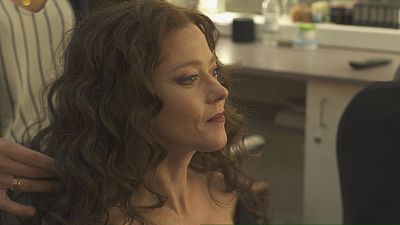 The Canadian soprano Barbara Hannigan is considered the specialist for contemporary operas, having performed more than 85 world premieres. She has inspired legendary composers like Pierre Boulez. Already at a young age, she was passionate about contemporary music, and it helped her to find her unique voice.
"I came from a very small village in the east coast of Canada and we didn't have a lot of classical music, we didn't have a lot of opera, actually we didn't have any opera. So I think I found it a bit intimidating when I moved to the big city, to Toronto, when I was 17 and there were all these musicians that knew so much more than I did about tradition and somehow I felt afraid of it. And when I sang contemporary music when I was working with living composers, somehow it gave me confidence in myself which I could then apply to the already-existing music. And so in that way it freed me."
"It's I think an obligation for me and one that I take with a lot of passion like a vocation, to give a lot of my time to contemporary music and to working with composers. And it's really a risky business because when you agree to do a world premiere it's usually two, three, four years in advance so you don't know what is going to be written. And so it's a very interesting process."
"I enjoy the struggle of going from that very first moment when you receive the music until the closing night when you've sung your last note. And you have done everything that you can to serve the piece."
In recent years Barbara Hannigan has also launched a successful conducting career.
"It's really such a huge change of life because I never imagined when I was a kid that I would ever conduct and now it's starting to feel really like a very natural part of me."
"It also relates maybe in a way to the community that I come from because as I said I come from this small community and yet I love the idea of a group of people working together very connected, deeply listening. And that doesn't just mean the orchestra. That also means all the people in the audience. There is this kind of gathering and witnessing of the music that I find touches me very much."