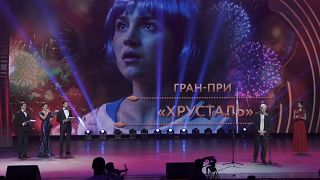 The film "Crystal Swan" directed by American-Belarusian newcomer Darya Zhuk has won the Grand Prix at this year's Almaty Film Festival in Kazakhstan.
The New York based director could not attend the award ceremony itself, so the film's producer, Russian Valery Dmitrotchenko received the award from legendary Russian film director Sergey Bodrov who was in the jury.
The film is set in the post-Soviet Belarus of the 1990s where young Evelina is desperate to get to Chicago and earn her living as a professional house DJ.
But for the paperwork she needs to provide evidence to the embassy that she has a permanent job. Fortuitous events then lead her to a backwater village where her destiny is grimly decided.
"I feel like the whole film is based on the idea that worlds clash ... she comes from a city and she ends up this smal town where people really think small," Darya Zhuk told Euronews.
Crystal Swan will also be shown at the London Film Festival and Belarus has put it forward for a Best Foreign Language Oscar - if it wins it would be the first Belarusian film to get it in 22 years.
The festival also gave German actress Nastassja Kinski and South Korean independent film maker Kim Ki-duk lifetime achievement awards.