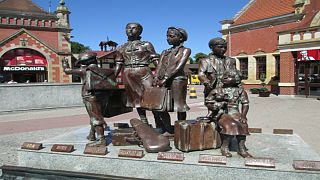 A new exhibition at the Los Angeles Museum of the Holocaust remembers the Jewish child refugees sent overseas in the 1930s by their parents from a continental Europe that was falling to German conquest.
The exhibition marks the 80th anniversary of the start of the "Kindertransport," a rescue mission that allowed thousands of Jewish children to escape the death camps of Nazi dictator Adolf Hitler. Very few ever saw their parents again.
Curator Jordanna Gesler said she had no idea when first conceiving of the exhibition that President Donald Trump's controversial immigration policies would bring the topic of child separation to public attention.
Trump's zero-tolerance policy saw thousands of immigrant children separated from their parents in May and June after crossing the southern border with Mexico without documents. The practice was stopped in the face of intense global criticism, but hundreds of children remain in the care of the U.S. government.
"It's given light to the importance of what's happening today and the importance of learning about the past," Gesler said.
Dave Lux, 85, was five years old when his mother Esther sent him and his brother Jakob to England to escape the Nazi invasion of Czechoslovakia. His travel document, on view at the exhibition, shows his name as Isidor Pinkasovic. It is displayed alongside a portrait of him as a child with close-cropped hair and a winter coat, and another of him with his brother and other children at the Ely Jewish Boys Home in England, where they lived during the war.
The brothers received little correspondence from their parents while they were apart. Their final letter, sent via the Red Cross, told them they had a baby brother, Ewin.
"When it (the war) was over, I looked forward to meeting my parents and my young brother, Ewin," Lux told Reuters at a preview of the exhibition. "Everybody was celebrating and singing and dancing, I still had uncomfortable feelings because I didn't know if they survived. And then days, weeks, months, maybe a month, finally my brother and I had to admit that we'll never see them again."
Lux later discovered he'd been saved by British war hero Nicholas Winton, who brought 669 mostly Jewish children on eight trains from Nazi-occupied Czechoslovakia to Britain through Germany in 1939.
Michele Gold's mother Rita Berwald is also featured at the exhibition. Berwald rarely talked about her escape from Nazi Germany at the age of 15, Gold said. It was only after her mother's death that Gold discovered 40 postcards she had sent from her wartime home in Scotland to an aunt and uncle in Switzerland.
"I personally will always regret that I did not know she wrote those postcards in her living years and, because of that, I didn't fully understand what she made have lived with. I think a lot of the kindertransport survivors lived with guilt because they survived and most of their parents did not," Gold said.
The exhibition runs from August 26 until December 31, 2018.