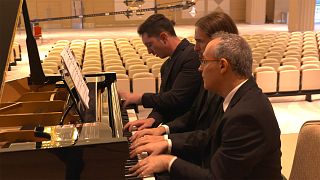 The Gabala International Music Festival in Azerbaijan has been celebrating its 10th anniversary.
The showpiece event features an amazing performance by the 'MultiPiano' ensemble from Israel. Audiences are able to enjoy scintillating music from eight hands on two pianos; sometimes they even play with 10 hands. This performance is part of the Bach-Vivaldi Concerto in A minor.
Euronews speaks to Tomer Lev, who is a pianist and also Head of the Buchmann-Mehta School of Music.
He says: "It was very popular in the 19th century. There were ensembles which played house concert (Hausmusik) home musizieren of six hands, two pianos and 8 hands. But it was completely forgotten over the years and the aim of this ensemble is to bring back this art at the front of the concert stage."